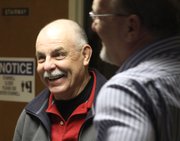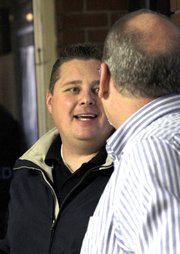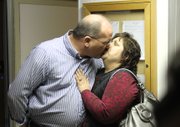 Results from the 2011 Craig City Council race:
• Don Jones — 981 votes, or 21.05 percent
• Ray Beck — 943 votes, or 20.23 percent
• Joe Bird — 854 votes, or 18.32 percent
• Byron Willems — 822 votes, or 17.64 percent
• Tony Bohrer — 556 votes, or 11.93 percent
• Stephen Hinkemeyer — 505 votes, or 10.83 percent
— Jones, Beck and Bird won the three open council positions. Willems, who finished fourth, will fill the remainder of mayor-elect Terry Carwile's term.
Craig Mayor Don Jones compared election night to a game of poker.
"Until you turn over all your cards, you don't know where you're at," Jones said. "You do the best you can, those are the cards you play, and I had the winning hand this time."
Jones, who was term-limited as mayor, was one of three candidates elected to the Craig City Council in Tuesday's municipal election. Incumbent Ray Beck and newcomer Joe Bird were also tabbed.
And, by finishing fourth, incumbent Byron Willems is expected to fill out the remaining term of Terry Carwile, who was elected the city's new mayor.
Jones previously served on the city council from 1995 until he was elected mayor in 2005. He had the most votes, 981, of any council candidate.
"I'm real thankful for that," Jones said of the voter support. "That shows that people do respect what I've done in the years since I've been in city council and that makes me very happy. That means I've been doing my job."
He emphasized a hope to continue to help the city grow and thrive. He said he would take lessons learned as mayor into his new council role.
"You learn every day," Jones said. "You learn little tricks of the trade in how to handle people and handle different situations, so you've got to use that."
Beck was elected to his second council term with 943 votes.
"The last four years have been a great experience and an opportunity," he said. "I'd like to sincerely thank the citizens for all their support during this election."
Beck said this year's election was "less nerve-wracking" after his first experience in 2007. He said he was happy with the results, though he was surprised at some of the numbers.
"I kind of thought Tony (Bohrer) would have pulled it off," he said. "He seems very personable and it's always good to get a different perspective."
"Personable" was a word Beck also used to describe Bird.
"I think he'll bring a lot to the council," he said.
Beck said he wants to focus on "serving the community" in his second term.
"Keeping a balanced budget and providing the traditional services that the citizens of Craig are accustomed to," he said. "Those are two of my goals in being involved with the community."
Bird received 854 votes. He ran unsuccessfully for the office in 2009, but encountered more support in his second bid Tuesday night.
He said he is "humbled" in getting selected to the position because of the responsibility and trust involved in the position.
"It feels good to get it this time," he said. "It shows the relationships that I've built and how many people trust me."
He credited winning in this year's election to having two more years of active involvement in the community. He said he hopes to bring good relationships and a strong foundation to the council.
"Between the meetings I've attended with the people and everyone I've gotten to meet and just everything I've learned at city council meetings, I'm ready to get in," Bird said.
Willems received 822 votes and will serve the remaining two years of Carwile's seat.
This is the second consecutive two-year term for Willems, a six-year veteran of the council, whose most recent two-year term came after filling the seat left by former councilman Rod Compton.
"Whether I get voted for two years or four, I'm happy either way," he said.
Willems said he expected a "close race" throughout the campaign.
Willems said he was pleased for Bird, who beat him out for the third four-year term by 32 votes.
"He's got a lot of experience with the (Craig) Chamber of Commerce and the Boys & Girls Club (of Craig), so he'll do fine," he said. "It's a solid board we've got, and it works well."
Willems said his main concern following the election will be "hammering out" an agreement with the Moffat County Commission regarding the Craig Police Department's use of the Moffat County Public Safety Center.
The two candidates left outside of office Tuesday night, Tony Bohrer and Stephen Hinkemeyer, received 556 votes and 505 votes, respectively.
Bohrer said he was nervous Tuesday thanks to running against familiar faces like Jones and Beck.
"You're always nervous a bit when you have your fate in someone else's hands," he said.
Bohrer added he would not let defeat this year prevent him from running for council again.
"I want to get more involved in the next couple years," he said. "I wasn't expecting a lot since this was my first time running for anything, but I'm not going to give up."
Hinkemeyer could not be reached for comment Tuesday night.
The four council members will officially be sworn in April 12 at Craig City Hall.
Click here to have the print version of the Craig Daily Press delivered to your home.