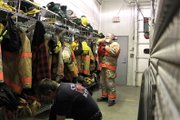 Budget
Budget summary for Craig Rural Fire Protection District:
• 2006
— Revenue: $676,516
— Expenses: $529,311
— Surplus: $147,205
• 2007 (start of mill levy collection)
— Revenue: $1,384,944.41
— Expenses: $955,032.58
— Surplus: $429,911.83
• 2008
— Revenue: $1,271,654.37
— Expenses: $1,189,806.17
— Surplus: $81,848.20
• 2009
— Revenue: $1,054,602.77
— Expenses: $1,117,457.16
— Deficit: $62,854.39
• 2010
— Revenue: $1,050,874.64
— Expenses: $504,218.43
— Surplus: $546,656.21
• 2011 (projected)
— Revenue: $1,010,799
— Expenses: $566,700.05
— Surplus: $444,098.95
• 2006 to 2010 surplus — $1,142,766.85
• 2006 to 2011 projected surplus — $1,586,865.80
Service Calls
Number of calls for service:
• 2005 — 294
• 2006 — 318
• 2007 — 295
• 2008 — 317
• 2009 — 371
• 2010 — 333
— According to Craig Fire/Rescue staff, half of the calls for service are usually related to emergency medical service and half to fire calls.
Population changes
Craig population:
• 2000 — 9,189
• 2010 — 9,464
— Statistics indicate a growth of 275 people or 2.99 percent in Craig's population in 10 years.
Moffat County population:
• 2000 — 13,184
• 2010 — 13,795
— Statistics indicate a growth of 611 people, or 4.63 percent in Moffat County's population in 10 years.
— Not all of Moffat County is included in the Craig Rural Fire Protection District.
Colorado population:
• 2000 — 4.3 million
• 2010 — 5 million
— Statistics indicate a growth of 16.9 percent in 10 years.
Source: U.S. Census Bureau
Reader poll
Yes 27%
No 69%
Undecided 3%
675 total votes.
Chris Nichols, a Craig Rural Fire Protection District Board member, was recently posed a question.
"Somebody once said, 'We live in a one-horse town (so) why do we need two fire stations?'" he said.
Nichols, the former chief of Craig Fire/Rescue, had a response.
"I'm sorry that person doesn't have a better opinion of his town and where he'd like to see his town be and grow," he said Wednesday. "But, we project this moving forward."
Recently, the fire board began exploring the construction of a second station for the fire department.
Nichols said if the idea is feasible and the fire department has the funding — much of which could come from a voter-approved 2006 mill levy increase — then the fire department will likely move forward with the project.
He said there are several reasons for the department's need for a second station — chief among them was to cover what he thinks is a growing and expanding fire district.
However, there are "naysayers," Fire Chief Bill Johnston said, who question the need for a second station or if such a proposal — which could include a training tower and live fire training building — fits what the fire department outlined in its 2006 mill levy campaign.
Such notions are "premature," he said, adding the fire department is "just looking into it."
"The point is that this has been blown out of proportions for where we are in the project," Johnston said. "Because we are straight forward and honest, we gave more information and people ran with the information instead of just sitting back and trusting us."
Origins and ideas
The idea for a second station surfaced publicly in late January during a presentation to The Memorial Hospital Board.
The land on which the proposed second station would be built is located directly south of hospital property.
Early plans for the station include four bays for vehicles, living quarters for firefighters, a five-story training tower, a separate building for live fire exercises and an education room containing stadium-style seating.
Johnston said those items are things he would like, but the district might not be able to afford as part of the initial project.
"When we talk about fire behavior, water supplies and live fires, it would be nice to walk down a pathway and there's live fire training," Johnston said.
The live fire building would allow the department to train in a realistic manner, Johnston said, rather than the current practice of finding a traffic cone representing fire in a smoky building.
The tower would be used for height-related training, including work on ladders, stairs and ropes, but would not be used in a burn.
Johnston said both Rifle and Hayden have training centers. However, the department can't fully utilize them because of distance and sends only a handful of firefighters to be trained at once.
"We are a small enough fire department that all that I can muster goes on a structure fire," he said. "So, we play together, we need to train together. I don't think the fire district taxpayers would appreciate me taking their entire fire department to Hayden, and even worse, Rifle."
An initial news release from the fire board indicated groundbreaking for the project would take place in late spring or early summer.
Fire board officials hired project manager Todd Ficken, of F&D International, to oversee the Station No. 2 project and have authorized him to solicit proposals for geotechnical investigation and first-phase environmental site assessment.
Officials also authorized the project manager to start drafting requests for proposals for design work — the first step in a design-bid-build approach — that will need approval before it is sent out.
Since June 2010, the project manager has billed the department twice for a total of $11,106.84.
Johnston said the department is "not wasting any money" on research into the project, even if isn't feasible.
"If we decide we cannot afford this, don't want to do it, doesn't sound right, all the studies — the soil studies, the structural studies, the environmental studies — all this can go onto a shelf and they are good to go," he said.
Johnston said the district has "no idea" of the cost of building Station No. 2 because of the number of "variables."
Nichols said there is about $1.14 million saved since 2006 between two district funds that would be used to fund Station No. 2, in addition to revenues from this year and minus $250,000 that would need to remain for emergencies.
"(But,) the board has not made a decision on that, whatsoever," he said.
'Can't wait until the need is here'
Talks of building Station No. 2 were sparked by an offer from Colorado Northwestern Community College to donate the property to the fire district, which is "ready to go" with infrastructure, Johnston said.
CNCC contends a second station would be a "good fit" with the rest of area's development, Nichols said.
"So, why wouldn't we be prudent and think about taxpayer money and think about, 'Well, we know that someday we are going to need a second station?'" Johnston said. "We know that."
Johnston said there is a "rule of thumb" that districts should have one fire station for every 10,000 people.
Nichols estimated the fire district — which covers Craig and surrounding areas — has about 12,000 people in it.
"It is not like you wait until 20,000 to build the second one," he said.
"When you consider that you need a second station, if I say to Chris, 'Chris I need a second station,' I'm too late," Johnston said.
Johnston added, "You can't wait until the need is here — that is poor planning."
"The chief did make a good point there — when do we build this station?" Nichols said. "Ten years from now when it is going to cost us twice as much money? We are projecting into the future — right now construction costs are down (and) we have the opportunity of free ground that may or may not be there 10 years down the road."
Nichols said the location also fits with the westward expansion of Craig.
"If the town continues to grow west, down the road, we want to be in the center of that new growth again because that is how we service the community," he said.
Building such a second station on a location such as the land the fire district owns on Industrial Avenue behind Kmart "would be a waste of Station 2," Nichols said.
"It wouldn't increase our coverage area more than where we are from downtown," he said.
Johnston said the eventual need of a full-time fire department — as opposed to its current part-time, paid-per-call staff — plays another factor in the decision.
"It is a known fact throughout America that the old volunteer fire departments are going away — people aren't volunteering in even the part-time aspects," he said. "People only want one job then they want to recreate or be with their families … but they certainly don't want a second job."
Johnston said he expects the fire department to hire a full-time staff in the next two to five years.
"So, it is a fight all the time to keep our numbers up to where we can respond to calls," he said. "Eventually, we are not going to be able to."
Craig Fire/Rescue has been working for several years to get a full staff of 35 firefighters, but currently has 29.
The staff is broken into seven officers, 20 firefighters and two probationary firefighters who started training in January.
The two recruits started the annual fire academy as part of a class of three. Typically, fire officials have said, the academy has a 50-percent graduation rate.
Fire officials have interest from five new applicants, but the 2011 class size is down from previous years, including the 2010 class, which had six recruits, four of which made it through the training to become firefighters.
'Another piece of equipment for serving'
Voters passed the 2006 mill levy increase by a vote of 2,614 to 1,192. It was the fire department's third attempt at securing more funding in five years.
Nichols said the mill levy has paid for four fire engines, replacement of breathing apparatuses and a compressor.
Part of the language of the 2006 ballot question directs "all such tax revenue to be credited to the district's general fund for operational expenses, including the acquisition and maintenance of firefighting equipment."
In a summary of written comments mailed to voters before the election, the fire department wrote it was requesting the mill levy increase for "the repair, replacement and maintenance of capital equipment including trucks, compressor and self-contained breathing apparatus."
Johnston said, however, the ballot "doesn't really tell the story" of what was said in public meetings hosted by the fire district to promote plans for the increase in revenue.
Johnston said the department was "very forthright" in discussions of what the money could be used for, but said a "Station 2" was never mentioned.
"No, we never named it," he said. "We talked about facilities. It was in general terms. We talked about addition or the possibility of another facility, and it was cursory.
"We didn't stay on the subject very long, but we were trying to promote the idea that we didn't have a crystal ball."
Johnston said a 2002 mill levy didn't pass because the funding would have been allocated to build only a training center.
"They didn't think we needed a training center," he said. "I heard this. We heard it over and over again."
Nichols said the "general theme" among voters who turned down a mill levy proposal in 2004 was that "you are just going to use this for a training center."
"If we were the scammer dogs these few people think we are, what we would have said is, 'We're building Station 2. Period,'" Johnston said. "Do you think we didn't know if we used the 't-word' (training), if we used the 'c-word' (center) anywhere, it's going to raise some antennas because the community said they don't want a training center?
"But we're being forthright. The board asked me what I'd like to see. I told them what I'd like to see. I don't think I'm going to get it."
Johnston said every fire department he's "ever visited" had one station deemed a "training station" with "training props" and a training tower.
"It's still a fire station, but it has the training tower and somewhere there's a live fire training building, so that's why I said I'd like to see that stuff," he said.
However, Johnston noted what he wanted might not be affordable.
"We might end up with a bare-bones Station 2 with quarters for future full-time firefighters not even finished," he said.
Both Nichols and Johnston said if the mill levy question was put to voters again with the proposal for a second station as it stands today, voters would still approve it.
"A station is another piece of equipment for serving the general public," Nichols said.
Nichols said it all boils down to the fire district "planning for the future."
"We're providing what this fire department needs to continue to grow and continuing to provide outstanding service to this community, and we're doing it all within the voter-approved revenues that we've been given," Nichols said. "If somebody thinks we're being dishonest, tell them to run for the board in two years or come to a board meeting.
"The general public has elected this board of directors to be in control of this (pot) of money, and they authorize this board of directors to use that in the best way that we see to provide fire protection and emergency services to this community.
"This board of directors is saying for the future, this is our direction."
Click here to have the print version of the Craig Daily Press delivered to your home.