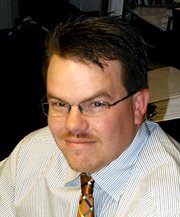 Business News Tips
The Daily Press wants to know what's happening at your business or place of
work, including promotions, new employees, transfers, awards, special deals, new products and more.
Send all your business news tips to Bryce Jacobson by e-mail at:
<
p>bjacobson@craig...
>
Zumba will host an open house from noon to 4 p.m. Saturday at its 261 Commerce St. location, inside Trapper Fitness Center. The business will have 15-minute Zumba workouts every hour for visitors.
According to www.zumba.com, "The Zumba program fuses hypnotic Latin rhythms and easy-to-follow moves" that allow participants to "achieve long-term benefits while experiencing an absolute blast in one exciting hour of calorie-burning, body-energizing, awe-inspiring movements meant to engage and captivate for life."
Zumba Instructors Christalin Thompson and Becky Smith host workouts from 7 to 8 p.m. Monday thru Thursday, and 9 to 10 a.m. Saturday.
For more information, call Thompson at 620-6633.
Samuelson's paint dept. adds new system
The paint department at Samuelson's True Value Hardware has experienced some changes.
The department has added an automatic tinting system, manufactured by HERO. The system will improve the accuracy of mixing paints.
The second addition to the paint department is a new "Kernal" system.
This system is available for rent in the Just Ask rental department, and will make stripping log homes a much easier process.
If you are planning to restain and seal your log home, this machine will make your job a lot easier. The medium used to blast the stain away is also biodegradable, and therefore no clean-up is necessary.
For more information about these and the many other products offered by Samuelson's True Value Hardware and Just Ask rental, you can visit the downtown Craig location at 456 Breeze St., or call 824-6683.
New name and an expanded menu
"If you ask any local to describe Gino's Neighborhood Pizzeria and Grill, they would burst into a smile from ear-to-ear and use such terminology as unpretentious, friendly, inexpensive, consistent and delicious," according to the www.explorecraig.com webpage.
Gino's, formerly known as Cugino's, has now expanded the menu to include things such as burgers and baskets.
To check out the new menu, visit the www.explorecraig.com webpage by searching keywords such as stromboli.
You can also call the restaurant at 824-6323, or stop by 572 Breeze St.