Photo Gallery
Labor Day of love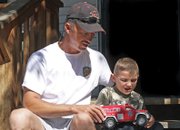 Firefighters across the country spend their workdays battling blazes, but when Labor Day came around this year, local fireman Troy Hampton was working just as hard on his day off.
His motivation for doing so burned as bright as any of the flames he has helped put out in his career.
Love for his family.
Craig/Fire Rescue firefighters raised $5,303 for muscular dystrophy Monday. Fifteen of the department's firefighters were out on street corners in Craig, collecting donations for the Muscular Dystrophy Association, a nonprofit organization dedicated to curing the condition, as well as other neuromuscular diseases.
On a national level, comedian Jerry Lewis fronts the charity and has been involved in fundraising since 1966. This year, his annual telethon raised $58.9 million.
Hampton, a Craig Fire/Rescue lieutenant, headed up the initiative in Craig, the first time the department has participated in the fundraising in 11 years.
"It's the highest we've ever collected," Hampton said. "In the past, the most we've ever collected was about $3,000. People were handing us 20s and 50s. It just shows what kind of community we have here."
Hampton said numerous fire departments nationwide get involved with the cause, but his inspiration for taking part could be traced back to his 5-year-old nephew, Jeremiah Price, of Craig, who was diagnosed with Duchenne muscular dystrophy in April 2009.
Jeremiah's mother, Krystal, said she and her husband, Yancy, first got their son tested when he was having physical difficulties in school such as keeping up with other children.
Since getting his diagnosis, Krystal has noticed her son needing help climbing stairs and seating himself in a chair, something that is hard for her to watch.
"It's still really raw," she said. "It's not something we'll ever really get over."
Duchenne is one of the more severe forms of muscular dystrophy, affecting one in 3,500 young males.
Krystal said Jeremiah will likely require a wheelchair as he gets older, though he can currently keep up on foot with his younger brother, Trystan, 4, and sister, Joslyn, 2.
Although Jeremiah has less strength than he otherwise would, Yancy said his eldest son's muscles feel normal.
"He's ripped," he said.
When getting Jeremiah diagnosed, the Prices also made sure to get Trystan checked out. Trystan did not share the affliction.
Joslyn cannot be affected by the recessive male trait, although she will need to be tested later in life for the X-chromosome that carries the disease.
"I'm just thankful we found out when we did so that we know what we're dealing with," Yancy said.
The Prices said Jeremiah understands his condition and that he needs to refrain from overexerting himself. But, this does not prevent him from participating in family activities like camping, fishing and four-wheeling.
Jeremiah said his favorite activities involve animals such as taking care of the family's horse, Fancy, and watching deer and elk around the region. He's also pals with the family dog, Lane.
"Lane's my best friend," he said. "She wants to have baby dogs."
The Prices have to leave Lane behind when they travel to Children's Hospital in Denver every six months.
Krystal said their insurance covers the expenses "for now," but the medical costs may require fundraising for the family in the future. Still, they want to provide their own contributions to the MDA to help people impacted by muscular dystrophy.
"The last time I heard, it costs $74 a minute for the research, so it's pretty expensive," she said.
The family headed a bake sale in Oak Creek on Labor Day, raising $321 for the cause.
"We haven't gotten to meet anybody else who's got muscular dystrophy around here," she said. "I'm surprised there aren't more people affected."
Krystal's eyes brimmed with tears talking about Hampton's involvement.
"The day after I talked to Troy about collecting money, he was on it," she said. "It's just so great how all those firefighters contributed their time and stepped in during their holiday."
An earlier version of this story contained an error, which has been corrected.