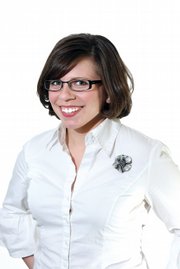 Weekend movie show times
29 E. Victory Way
824-2000
"The Last Exorcism" — Rated PG-13; 7 and 9:05 p.m. Friday and Saturday, 4 and 7 p.m. Sunday
"Nanny McPhee Returns" — Rated PG; 7 and 9:05 p.m. Friday and Saturday, 4 and 7 p.m. Sunday
Tickets: $7 for ages 10 and older, $5 for ages 9 and younger
Sunday matinee: $5 for ages 10 and older, $4 for ages 9 and younger
Submit your event
Submit your event's details for consideration by e-mailing me at mballeck@craigdai... or calling 875-1790.
It's another slow weekend in Craig, but it might be a welcome respite.
The skies are forecasted to clear up for the weekend, so you can get outside for work or play.
And watch out for next weekend — it's shaping up to be a busy one.
• Round 'em up.
It may be a quiet weekend in Craig, but Meeker will be dog-gone packed.
The 24th annual Meeker Classic Championship Sheepdog Trials began Wednesday and continue through Sunday in Meeker.
Contests begin at 7 a.m. today, Friday and Saturday, and the finals are at 8:45 a.m. Sunday.
Other attractions include food and craft vendors, a pancake breakfast from 7 to 9 a.m. Friday, Saturday and Sunday and many demonstrations.
A five-day pass costs $30 for adults and $10 for seniors and ages 8 to 16. A single-day pass costs $10 for adults and $5 for ages 8 to 16. Children younger than 8 are free.
For more information, call 878-0111 or 878-5510 or visit www.meekersheepdog.com for a full schedule of events and list of competitors.
• Mix it up.
The Bank of Colorado, 250 W. Victory Way, is hosting tonight's Craig Chamber of Commerce Ambassadors Business After Hours Mixer.
The mixer runs from 5 to 7 p.m. today.
Anyone can go, but RSVP by calling (970) 824-5689 or e-mailing office@craig-chamber.com.
• Hayden Speedway hosts the Harvest Cup and sprint cars at 6:30 p.m. Saturday in its final event of the season.
Admission is $8 for adults and $4 for youths 7 to 12. Kids ages 6 and younger get in free.
The track's at 37900 County Road 53 in Hayden.
Call 824-3070 or (970) 208-7772.
• Never stop learning.
If you've ever been curious about tai chi, now's the time to check it out.
Mae Jenrich will host a free demonstration of Chen-style tai chi from 10 to 11 a.m. Saturday at the south end of Craig City Park. She will be teaching tai chi classes this fall.
Call Holistic Health & Fitness at 824-4700 for all the details.
• Next week, a unique opportunity presents itself.
The Ohio Valley Refinery & Roadshow comes to Craig and invites residents to take antiques, collectibles and gold and silver items for possible sale.
The show runs from 9 a.m. to 6 p.m. Tuesday through Sept. 17 and from 9 a.m. to 4 p.m. Sept. 18. It's at Hampton Inn & Suites, 377 Cedar Court.
So head on down and see if you can make some cash from those hidden treasures in your attic.
• Saturday is the ninth anniversary of Sept. 11.
It's an annual reminder to recall, reflect and remember.
• Playing at West Theatre are "Nanny McPhee Returns" — which looks like a cute family movie — and "The Last Exorcism" — definitely not a family movie, but could be a decent thriller.
Redbox has "Date Night" — I so wanted to see that, because, really, who doesn't love Steve Carell and Tina Fey? — "The Joneses" and "Jackie Chan Kung Fu Master."