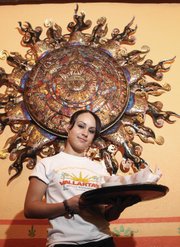 Occupation
Hostess at Vallarta's Mexican Restaurant
"I'm a hostess, but I do a little bit of everything. I bring the salsa and chips to the tables and I seat people. I like doing everything here, helping the customers and the waitresses. And I like the enchiladas. I love the chicken enchiladas here. They're my favorite.
"I'm 17, and I'm going to be 18 on Sept. 11. I graduated this year and I'm planning to go to college sometime soon. I want to be a cosmetologist. I want to do makeup, hair, nails. It's fun to be a cosmetologist. I miss high school a little bit because of my friends. At the same time, I want to go to college. That's why I'm working. I want to save money for college next year. I'm not sure where yet, but we'll see.
"I've been living in Craig for seven years now. I moved from Chihuahua, Mexico. It's gorgeous here and I think it's a better life here than in Mexico. We have better opportunities here and it's great to learn both languages, English and Spanish. I got here with a visa. It was kind of hard to make friends here because I didn't know anyone when I got to school and I was kind of depressed at the beginning. But after a while, I started making friends and started hanging out with them.
"It was hard to speak English. I had to learn it. I was 10 years old. I started going to (Craig Intermediate School), which is Sandrock Elementary now. I was in sixth grade and Mrs. Robinson helped me a lot. For the first four hours (of each school day) I was learning English, and then I would go to science and math. So most of the time I was just learning English, which was hard.
"We moved here because of my dad. My dad moved here in 1998 and then my mom moved up here. And then my grandma brought me here. She told me it was a good place to live. We're OK right now.
"I like to go to other places, like Rifle and other towns. I like to go to dances with my friends and hang out, eat dinner, and go to the movies sometimes. We dance to all kinds of music: hip-hop, pop, and Mexican music like rancheras, cumbias, and nortaña."