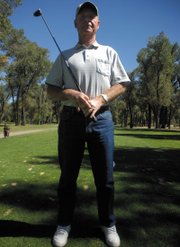 When Craig's Kurt Utzinger hit his first hole-in-one, it was five years ago at Ironwood Golf Course in Scottsdale, Ariz., on his last swing of the day.
"It was kind of unusual," he said. "We were playing in a couples league, and it was the last shot of the round and my last shot of the day.
"I was hungry, and ready to go in. Then, it kind of just happened."
When Utzinger, 67, hit his second career ace Sunday at Yampa Valley Golf Course, it saved his round.
"On Sundays, four couples play together," he said. "The ladies all golf with each other, and the men play together.
"I didn't have a very good start."
Utzinger became the 147th person to sink a hole-in-one at Yampa Valley Golf Course.
He joined Tim Boyle, who aced hole four July 1, to sink a hole-in-one this year.
The fourth hole, which is more than 175 yards from tee box to pin, is a short hole on the eastern side of the course.
"The pin was in the shade," Utzinger said. "I couldn't really see it, but I had a nice shot."
When he headed to the flag, Utzinger said he couldn't see his ball anywhere on the green.
Because the hole is short, Utzinger said he thought his ball had soared over the green and into the bushes.
"That was when (golf partner) Lynn Curtis said, 'Look in the hole, Kurt,'" he said.
Like his last hole-in-one, Utzinger said he managed to stay grounded.
"It was about the same feeling," he said. "I didn't get too excited."
For Utzinger, who has golfed at Yampa Valley every summer since it opened in 1968, his first hole-in-one at the course was a long time coming.
"It took me a long time to get my first," he said. "The second came only five years later."
For Utzinger, aces run in the family.
On the same hole 28 years earlier, Utzinger's brother, Deems, also hit a hole-in-one
But, Kurt's wife, Susan, is still atop the leader board with three, all at Ironwood.
Although his score ("Not to be disclosed,") wasn't his best at Yampa Valley, Sunday was one of the more memorable rounds of golf he has played.
"I didn't have a very good score," he said. "It definitely saved my round. Right afterwards, the wind really
picked up."
Utzinger said he won't be expecting another hole-in-one anytime soon.
"It's luck," he said. "That's it — just luck.
"You never think too much about it. If it happens, it happens."