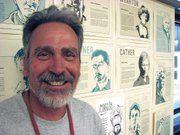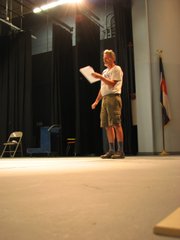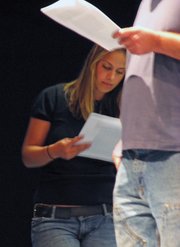 If you go
What: "Moffat County's Last Stand"
When: 7 p.m. Sept. 24, and 2 and 7 p.m. Sept. 25
Where: Craig Middle School auditorium, 915 Yampa Ave.
— Show times are subject to change.
David Morris has glimpsed Moffat County's future, and by his reckoning¬, it's both bleak and zany.
Morris will present his vision later this month at the Craig Middle School auditorium in the form of "Moffat County's Last Stand," a three-act play set in 2025.
"Craig's in big trouble when this play takes place," Morris said. "(Corporations) are buying up the county to turn it into a toxic-waste landfill."
Morris teaches language arts, drama and cartooning to CMS eighth-graders. In his spare time, however, he toils as an amateur playwright.
"I've written approximately 10 plays," the 57-year-old Morris said.
He wrote his latest work over the summer and auditioned actors in late August.
Morris, who is also directing the play, prefers unhinged performances.
"I like crazy, and I want this play to be crazy," he said. "These characters have to be played really loose, almost slapstick."
The play is a production of Craig's Black Mountain Theater group. The group's costume designer, Katie Johnson, has been cast in one of the production's major roles.
"I'm playing Candy Randy," said Johnson, describing her character as a woman of loose virtue.
"I guarantee (the performances) will be hammed up," she added.
Johnson, who owns and operates Katie's Kostumes in Craig, is also responsible for establishing the look of the characters.
"I'm working on a futuristic 'Jetsons'-type thing," she said. "Craig probably won't change that much (in 15 years), but if you're coming to a show about the future, people expect to see something space-agey."
Black Mountain Theater will introduce some new members at the latest production.
Emily Gilchrist, who was born and raised in Craig, has recently returned to the area from Hastings College in Hastings, Neb., where she studied theater.
She will play Sandy Sweetbread.
"She's courageous and faithful," said Gilchrist of her character. "She's very sweet and devoted, but she's not the sharpest crayon in the box."
Although Gilchrist is new to Black Mountain Theater, she and Morris have worked together before.
"The first play I was ever in was (David Morris's eighth-grade drama class)," said Gilchrist, 23.
Another newcomer to Black Mountain Theater is Craig resident René Littlehawk-Calicura.
Littlehawk-Calicura, originally of Utah, has lived in Northwest Colorado since 1989. Her sole stage credits are from a theater group in Maybell.
"We did 'Snow White and the Seven Dwarfs,' which we rewrote," Littlehawk-Calicura recalls. "The dwarves were part of a motorcycle gang.
"I played a dwarf and I'm 5'8"."
Littlehawk-Calicura will play bit parts in Morris's play.
"I play a prisoner who dies, then I'll play a member of an environmental group."
Environmental concerns inspired the play, Morris said.
"Quite honestly, I wonder what (Moffat County will) be like in 2025," said Morris. "If certain people have their way, this place might end up like Pinedale, Wyo."
Morris described Pinedale as a beautiful place with a natural charm that was eventually blighted by industrial interests.
"I lived there for six years and that's really what started to get me riled up about all this stuff," he said.
"Personally, I think we owe our children and grandchildren an opportunity to see what we see."
Despite the play's underlying message, Morris aims to keep the tone fun and playful. And he'd prefer to steer clear of controversy.
His actors agree with that assessment.
"I think the reaction to (the play) will be good," Gilchrist said. "Anytime you can joke about something, people are pretty OK about it."
"People need a good laugh right now," Johnson said. "It'd be a good thing to come to."