Photo Gallery
Southern hospitality a long way from home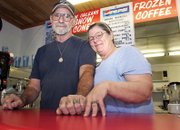 The slow pace of Western life is even slower on the outskirts of Craig's east side. Businesses and homes are sparse, and shade is tough to find.
It's a quiet place.
Even U.S. Highway 40 seems almost forgotten, the sounds of stillness and birdsong exist in equal measure with the occasional whoosh of tires on asphalt.
But, at this lonely, sun-baked corner of Craig, you'll find a homey sandwich shop standing in the shade of a lone aspen tree.
Inside, you'll find "Mom" and "Pops."
The door squeaks open to reveal Joy Daigle — a short, 60-year-old woman — standing behind a lunch counter. Her husband, Gabriel Daigle, 65, stands in the kitchen preparing barbecue.
"Hello," Joy says. "How are you doin'?"
A menu hangs from the ceiling, but Joy recites it anyway.
"We have beef brisket, we have pulled pork, our Cajun sausage is a little spicy, and we have pot roast," she says. "We serve them in a big sandwich and it comes with chips."
Place an order at Mom & Pops Sandwiches, and Joy will ask, "Do you have time to eat here with us?"
If you stay, prepare yourself for a dose of Southern hospitality.
"I don't know what it is about the poor South," Gabriel says. "But they've got that Southern hospitality. The old Cajun people? You're not gonna find nicer, kinder, more helpful people than the Cajun people."
Bringing hospitality to Northwest Colorado
The Daigles were born and raised in Louisiana. They were married 44 years ago, and they've been business partners for 40 of those years.
In 1998, they moved to Craig.
"We got tired of the heat and humidity, the mosquitoes, (and) running from hurricanes all the time," Gabriel said.
Since arriving in Northwest Colorado, the Daigles have operated four businesses. They had two barbecue places on the western end of town, and, more recently, they ran Wild West Barbecue, which is now under new ownership as JW Snacks Bar & Grill.
"We didn't do barbecue (as a business) until we moved up here," Gabriel said. "They didn't have good barbecue up here, so I said, 'Man, they don't know how to cook. (I'll) show 'em.'"
The Daigles have operated a business at their current location for three years, but they didn't serve barbecue until four months ago. When they sold their last business to the owners of JW Snacks, Gabriel signed a no-compete clause in the contract.
"My hands were tied for five years," Gabriel said. "We couldn't do barbecue. Now the five years is done."
Since firing up the smoker in May, Gabriel said his business has taken off.
"The first week was slow," Gabriel said. "After that first week the word got out that Joy and I were back to cooking and — most everybody in town knows us — it just took off.
"We don't treat anybody as a number. We never have in any of the businesses we've owned. We treat people as friends. Everybody we associate with…we learn their names and they become our friends."
Expressing his Southern hospitality in Northwest Colorado, however, doesn't always work as well as it did back home.
"We'll say, 'Thank you, ma'am,' and 'Thank you, sir,' and they'll look at you funny because they're not used to that," Gabriel said. "They're like, 'What are these people saying?'"
Despite some initial confusion, Gabriel said he keeps the hospitality coming.
"You meet some people here, you might not get two words out of them," Gabriel said. "You won't. You can't get them to open up. But after you get them coming in for a little while and you keep gettin' nice and joking with them …before you know it, you got 'em happy. You got them in that spirit of, 'Enjoy life a little bit.'"
'An abode for God'
Gabriel also credits faith for his successes in business.
The Daigles, who attend services at Apostolic Lighthouse in Craig, have adorned their restaurant's walls with placards of psalms and blessings.
When Gabriel hung the placards in his previous businesses, he encountered some resistance.
"A lot of people said, 'Man, you're going to run your business off,'" Gabriel said. "I told them, 'Let 'em run. They can run, because I'm going to have it.'
"In all our businesses, we give God the glory. We're an abode for God."
The Daigles have no plans to return to Louisiana apart from occasional visits.
They like Craig, Gabriel said.
"I had one lady tell me the other day, she said, '(Craig) stinks. I can't stand this. I can't wait to get out of here,'" Gabriel recalled. "I said, 'Ma'am, obviously wherever you're gonna go, you're gonna have the same problems.
"Because they got bad wherever you go and they got good wherever you go. So, you can't judge a town by looking at just one side of it. You have to look at the other side, too, and you'll find we got a lot of nice people here, just like everywhere else."