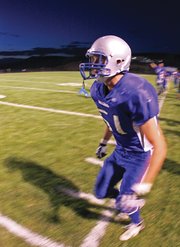 Starters
MCHS projected offensive starters:
• QB Bubba Ivers, So.
• WB Miguel Molina, Jr.
• HB Braeden Sullivan, Jr.
• FB Mason Updike, Jr.
• WR Nate Chapman, Sr./Chet Harvey,
Sr./Zach Raftopoulos, Sr.
• TE Brady Conner, Sr.
• LT Michael Samuelson, So.
• LG Gage Spears, Sr.
• C Angelo "Hodge" Raftopoulos, Sr.
• RG Tyler Hildebrandt, So.
• RT Cody Adams, Sr.
MCHS projected defensive starters:
• LT Casey Martin, Sr.
• DT Justin Benedict, Sr.
• RT Dario Georgiou, Jr.
• LOLB Brady Conner, Sr.
• ROLB CJ Walt, Sr.
• LILB Josh Pritchard, So.
• MLB Angelo Raftopoulos, Sr.
• RILB Steven Wagner, Sr.
• LCB Ryder Seely, So.
• S Miguel Molina, Jr.
• RCB Braeden Sullivan, Jr.
Keys to the game
From head coach Kip Hafey:
• Tackling: Aspen running back Nick Ufkes excels after contact, so bringing him down at the first opportunity is pivotal.
• Turnovers: Against a team that runs so frequently, Moffat County needs to collect any fumble or turnover it can.
• Winning the possession battle: The high-powered Aspen offense is adept at chewing up the clock, so keeping them off the field will help MCHS pull ahead, Hafey said.
Moffat County High School football team, meet Nick Ufkes.
Ufkes, meet the Bulldogs.
When the MCHS varsity team (0-1 overall, 0-0 in the Western Slope League) plays Aspen High School (0-0) at 7 p.m. today in Aspen, the team can expect to see plenty of the Skiers' senior tailback.
Last season, Ufkes was second in Class 2A with 2,506 rushing yards, a stat that included the playoffs, as the Skiers made it to the state quarterfinals. He also scored 29 touchdowns in 2009.
On Friday, it will be the Bulldogs who are tasked with slowing him down.
"We've added a few different coverages, and we'll put some more guys up on the line," MCHS defensive coordinator Lance Scranton said. "We'll see what we can do about stopping him.
"He's explosive, though."
MCHS is coming off a 26-22 season-opening loss Aug. 27 against Evergreen at home.
Although the Bulldogs led for most of the game, Evergreen was able to score late, and close out the game, dipping MCHS into an 0-1 hole to start the season.
But, the Bulldogs are focused solely on stopping Ufkes and the Skiers.
"We've had a good week of practice," MCHS head coach Kip Hafey said. "The guys have been working hard, and we've been talking about playing physical.
"That's (Aspen's) game. They want to run the ball, so we have to be physical. We're not going to back down."
On defense, the Skiers will run out of a 4-4 (four linemen and four linebackers), with several looks coming out of the 6-2.
"We have been working on staying on our blocks," Scranton said. "Our line needs to hold their blocks if we want to win.
"Football is a chess match. We'll have to counter what they throw at us."
The Bulldogs offense was a few blocks away from exploding against Evergreen, Hafey said.
"When we went over the game tape, there were six or seven plays where we were one block away from a big play," he said. "If we can hold our blocks for a little longer and execute, we can put up points against a stingy Aspen defense."
Keeping the ball out of the Skiers' hands will also help the Bulldogs if they want to win, Hafey said.
"We have to win the time of possession battle," he said. "With their offense, they are really good at chewing up the clock."
Sophomore Bubba Ivers will step into the starting quarterback role a week after going 7 for 12 with two touchdown passes.
Last week's starter, junior Wes Chapman, will split time with Ivers under center.
All 11 of last week's defensive starters return, but Scranton said the changes would again be fluid.
The Bulldogs allowed 125 rushing yards on 45 carries, and only 244 total yards against Evergreen.
If the Bulldogs want to split their early season games, they will need to hit Ufkes before he has a chance to bolt.
"It will be a good test for our defense," Scranton said. "The guys up front will be ready.
"We have to tackle and we have to swarm to the ball carrier."
Aspen has been unleashing Ufkes through the pro-formation, Scranton said.
"They will run twins, as well," Scranton said. "They will also come at you with just the lead (halfback) dive.
"They'll throw a few wrinkles in there, too."
Notes: After today's game, the Bulldogs will have a bye-week, and then host John F. Kennedy High School on Sept. 17 at MCHS… The MCHS junior varsity football team fell, 15-0, to Evergreen on Aug. 28… The junior varsity's next game will be at 4 p.m. Sept. 7 in Meeker.