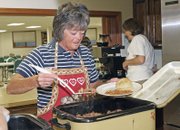 Like the taste of a good barbecue sauce, the first Colorado State BBQ Championship in Craig continues to resonate.
St. Michael's Kitchen was the recent recipient of "hundreds of pounds" of barbecued pork, brisket, ribs and chicken donated by teams from Friday and Saturday's championship at the Wyman Museum.
The kitchen, a non-denominational charitable organization of St. Michael Catholic Church, serves free food to the community from 11:30 a.m. to 1:30 p.m. Tuesdays and 4 to 6 p.m. Thursdays in the church basement, 678 School St.
Phil Hastings, a St. Michael's Kitchen volunteer, said donations are critical to the kitchen's continued operation.
"We rely on donations," Hastings said. "The community has been good to us.
"We get stuff from (The Memorial Hospital) and Safeway and City Market. Some people bring us gifts cards for those stores or (Brothers Custom Processing)."
This latest donation, however, is "a little different than usual," Hastings said.
The food, which includes entries from local barbecue contest winners Smokin' 101 of Meeker and Adrian Nelson of Craig, was served Tuesday at the kitchen.
George Rohrich, organizer of the barbecue championship and the event's donation to the kitchen, said the donation idea originated with the cookers.
"Some cookers were talking, saying 'What can we do for the community of Craig?'" said Rohrich, who is also the chief executive officer at TMH. "And, after some discussion, we decided to donate unused food to (the kitchen)."
Rohrich roamed the museum grounds Friday and Saturday, securing donations from more than 15 of the 33 teams entered into the event.
Volunteers at Tuesday's lunch said several people from St. Michael's Kitchen went to the championship Saturday, collected the donations in storage bags and transported the BBQ back to the church.
"We collected hundreds of pounds (of barbecue)," said Susan Domer, a volunteer. "It filled our freezer."
Volunteer Pam Hastings said the kitchen is open to all people, not just low-income residents.
"It's more of a community thing," Hastings said. "We have elderly people who come (to the kitchen). For them, it's a social time."
The volunteers at Tuesday's lunch said they regularly serve lunch to 100 people every week, including nearly 40 people who receive food via the kitchen's delivery program.
When asked if the kitchen might see a sudden influx of patrons now that world-class barbecue is available, Domer laughed.
"Oh, probably," she said. "The barbecue smelled so good when I walked into the church today, I was like, 'Yummers!'"
The kitchen staff expects to serve barbecue during future meals for some time.
"That's the good thing about barbecue," Rohrich said. "It freezes well and heats up nicely."