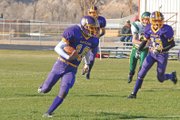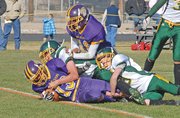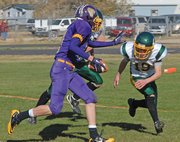 BAGGS, WYO. — In the Little Snake River Valley football team's last meeting with the Farson-Eden Pronghorns, the six-man squad from Baggs, Wyo., sailed to a 79-0 victory.
The Rattlers looked almost as dominant Friday at the Snake Pit. Little Snake River Valley scored 64 points in a first-round playoff shutout against the Pronghorns.
The win sends the Little Snake River Valley team to the second-round of Wyoming's six-man state playoffs.
Farson-Eden's season ended at 0-8.
"They've really improved a lot this season," Baggs coach Michael Bates said of the Friday opponent.
The game was one-sided almost from the beginning, with Little Snake River scoring their first touchdown on the second play, less than a minute in. The Rattlers led by 43 points at the start of the second quarter.
Rattlers sophomore Conner Lee finished the first quarter with an 18-yard pass reception in the end zone.
It was one of two touchdowns in the game for Lee, who later hauled in an interception and ran it back 55 yards for another score.
Lee played almost the entire game, as did many Rattlers who had not seen as much playing time during the regular season. Bates pulled his starters after halftime.
"You don't want to injure your varsity guys in a game like this," he said.
Senior starting quarterback Chance Engelhart had little playing time in the blowout win, with sophomore Zachary Filip leading the team for most of the game.
Engelhart said his limited time was a result of the job he and his offensive teammates did in the first quarter.
"We went in there and we got it done," he said.
Little Snake River's scoring streak came to a halt in the second half, but the less experienced Rattlers prevented the Pronghorns from lighting up the scoreboard.
"Their defensive work was great," Bates said.
Much of the action in the second half took place on the 40-yard line, the midway point for six-man teams.
The Rattlers will next face the 6-2 Kaycee Buckaroos. Kaycee beat the Midwest Oilers, 60-32, on Friday. The team was Baggs' first opponent of the season.
The Rattlers had one of their hardest-fought victories of the year against the Buckaroos, winning 68-44.
"Kaycee will definitely give us a good game," Bates said.
Bates referred to the Farson-Eden game as "a stepping stone" to his team's ultimate goal.
"We're one game away from Laramie," he said of the site of the state championship game.
The Rattlers will play the Buckaroos on Nov. 6, with the time and location yet to be determined.