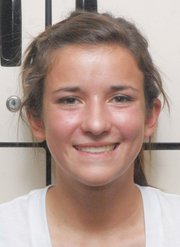 Age: 16, Moffat County High School junior
Sport: Cross-country
How did you get your start in your sport?
"I don't know what it was that got me excited about it. (Coach Todd) Trapp was always talking about it in PE in my freshman year, and I joined my sophomore year."
How well do you think your team functions?
"We all kind of chip in. It's like a family and we have our own personal things that balance each other out."
What is something you'd like to improve about your performance?
"I'd like to break 22 minutes for a race, overall."
What is one thing about your team that an outsider might not know?
"It's a lot harder than people make it out to be. Everybody say that it's just running, but it's also eating the right things and getting the right amount of sleep and cutting back on activities."
What is one part of your lifestyle you've had to change for your sport?
"The way I eat. I drink a lot of pop and I've had to cut back because you can't drink it in cross-country."
Favorites
Food: Chocolate donuts
TV show: "Family Guy"
Book: "I just finished 'To Kill a Mockingbird,' and it blew my mind."
Movie: "Zoolander"
Band: Either Death Cab for Cutie or The Beatles
Insect: Cricket