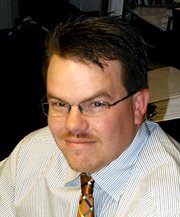 Business News Tips
The Daily Press wants to know what's happening at your business or place of
work, including promotions, new employees, transfers, awards, special deals, new products and more.
Send all your business news tips to Bryce Jacobson by e-mail at:
<
p>bjacobson@craig...
>
Dr. Kirk McKey's chiropractic clinic has been offering drug and alcohol testing for some time now.
The business recently announced that Hazel Holdridge has been certified with LifeLock to perform the tests, in addition to McKey.
The tests are available to be purchased by businesses or individuals.
"We are excited that we now have two qualified and friendly customer service folks handling these accounts," McKey said.
You can visit the clinic, located in downtown Craig at 469 Breeze St., from 8 a.m. to 5 p.m. Monday through Friday, or by calling 824-4444.
Local hotels lauded
Candlewood Suites announced that the local hotel, located at 92 Commerce St., is ranked fifth overall in guest satisfaction. The local location is ranked first of all locations in Colorado.
The owner and operator of the local Candlewood Suites is Mars Hospitality, LLC, which is based in Parker. The Craig location opened in December 2008, according to a news release.
Director of sales Tammie Thompson-Booker can be reached at 824-8400, ext. 419.
The local owners of the Best Western Deer Park Inn & Suites were among 72 of 2,224 other Best Westerns in North America to receive notice that they had been awarded the 2010 Champion Customer Care Award.
"We are very proud of this award," said Kerry Moe, Best Western owner and manager.
According to a news release from Best Western International, Inc., Best Western is committed to building guest loyalty by making every Best Western guest experience special and memorable.
It went on to state that the local Best Western embodies the same commitment.
Newspaper freshens up craighomefinder.com
The Craig Daily Press has launched a new look and feel to the real estate website www.craighomefinder.com.

"Craighomefinder.com now has a new, clean feel to it that even better accentuates the terrific features of the site," online content producer Michelle Balleck said. "The best part is, however, that users still have the same great functionality that allows them to search for several criteria in a home, including number of bedroom and bathrooms, price, neighborhood, and more."
Craighomefinder.com is available to you through a cooperative agreement between the Craig Daily Press and the Craig Association of Realtors. All CAR members have information and their properties on this site.
The Craig Daily Press also manages websites such as www.craigdailypress.com, the biggest and most frequently visited website in Moffat County; www.explorecraig.com, your local business search engine; and www.thelocalprintshop.com, which showcases products offered by The Print Shop.
If you are interested in launching a website for your business, contact Brittani Bailey at 824-7031, or visit the newspaper at 466 Yampa Ave.