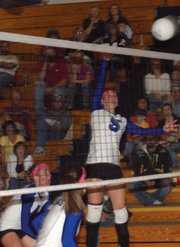 Lauren Roberts has gotten used to the volleyball court at Moffat County High School, experiencing both wins and losses there.
Looking back on her final competition at home, she couldn't help but wish that it could have been one of triumph.
In the last home game of the season, the MCHS varsity volleyball team lost, 3-2, to the Glenwood Springs Demons.
The final result was a familiar one to both teams, who had seen the same turnout of their Sept. 25 game in Glenwood, the difference being a Bulldog victory for that match-up.
Set by set, the results were closer in Saturday's game, with the biggest margin of the day the second set's 25-19 rather than 25-11, as on Sept. 25.
Both teams refused to give up in the final moments, resulting in close victories of 27-25 and 26-24 for the Bulldogs in the first and third sets, and 25-23 win for the Demons in the fourth.
MCHS coach Sandy Camilletti said the problem was in the numerous scoring streaks.
"We let them get on too many long runs and drive the score up," she said.
The fifth set started out strongly for the Bulldogs, but it did not take long for the Demons to take the lead and the win.
"The energy just wasn't there this time," Roberts said. "It wasn't the same as when we played Palisade."
There were glimmers of the Bulldogs' 3-1 victory against Palisade, with the team digging in for frequent last-minute saves, coupled with powerful kills by seniors Roberts and Kelly Syvertson, junior Annie Sadvar and sophomore Makayla Camilletti.
Defensively, the team had strong blocking by juniors Melissa Camilletti and Adrie Camp, with senior Jess Matthews and junior Morgan Knob working the back.
"They were pretty scrappy today," Sandy said.
Sandy added that the presence of Glenwood's hard-hitting Lexie Warkentiss helped propel the Demons forward, because Warkentiss did not play in the previous game between the two teams.
"She definitely made a difference," Sandy said.
The loss, which puts MCHS at 6-10 overall, hit Roberts hard because it was the senior's last home volleyball game.
"We just have to keep going," she said. "There was no one particular thing we did wrong."
The Bulldogs are now 3-6 in the Western Slope League.
With three games left in the regular season, they are still in the running to be in the playoffs, though they will have to win against Steamboat Springs and Battle Mountain to remain in contention. The team also will take on top-ranked Eagle Valley.
Sandy said the team will continue to work on practicing fundamentals, such as passing.
"We need to work on being more consistent," she said.