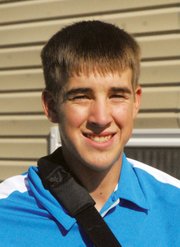 Age: 17, Moffat County High School senior
Sport: Golf
How did you get your start in your sport?
"My dad (Tom Dockstader) was the golf pro here, and I've been playing my whole life. I quit for a couple years, then came back to it my sophomore year. I've really committed myself to it the last couple summers."
What's your strong point in your sport?
"Finding a way to get out of the hole with par."
What has been the highlight of your season so far?
"The ability to have a really low round and if our third player isn't playing so well, maybe I could make up for it."
How do you plan to continue in your sport next season?
"I have to do rehab for my shoulder for five or six months. Then I'm playing in a series of about 15 junior tournaments next summer."
What is your favorite thing about your sport?
"It's the competitiveness, but also the friendliness. You can be competing so hard against others but still maintain friendships with them, like kids from other schools. You get in relationships with them."
Do you have plans to turn pro?
"I actually could make a career of it and be a golf pro like my dad was and maybe work my way up to a country club or other courses. That would be cool."
Favorites
Food: Häagen-Dazs cookie dough ice cream
Movie: "Gran Torino"
Sport to watch other than your own: Football
TV show: "Seinfeld"
Color: Black
Video game: "Madden 2011"