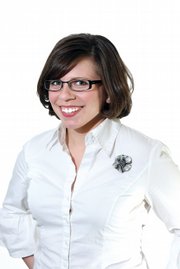 Weekend movie show times
29 E. Victory Way
824-2000
"You Again" — Rated PG; 7 and 9:05 p.m. Friday and Saturday, 4 and 7 p.m. Sunday
"Easy A" — Rated PG-13; 7 and 9:05 p.m. Friday and Saturday, 4 and 7 p.m. Sunday
Tickets: $7 for ages 10 and older, $5 for ages 9 and younger
Sunday matinee: $5 for ages 10 and older, $4 for ages 9 and younger
Submit your event
Submit your event's details for consideration by e-mailing me at mballeck@craigdai... or calling 875-1790.
If you ask me, this weekend is made for catching up, sleeping in and starting your Halloween plans. We're trying to figure out our costumes, and it's a great weekend to start getting those together.
But, if you want to get out of the house, there are a few options to allow you to do just that.
• Bowling, bowling …
Absolute Drains is hosting a fundraiser for the Bowlers to Veterans Link from 5 to 9 p.m. Saturday at Thunder Rolls Bowling Center, 990 Industrial Ave.
It's just $15 per person for three games of bowling. Plus, there will be a strike competition, 50/50 raffle, free food and prizes.
Call 824-1767 if you want to find out more or donate to the cause.
• … and more bowling.
The youth bowling program at Thunder Rolls Bowling Center begins Saturday.
The program includes games on Saturday mornings or Monday evenings for youths ages 3 to 18.
If your kiddo is looking to improve her game, or just learn about the sport, this could be so fun. Plus, the program is reasonably priced.
Find out more about this opportunity by calling Thunder Rolls at 824-2695.
• You best be going to Best Western Deer Park Inn & Suites' Craig Chamber of Commerce Ambassadors Business After-Hours Mixer tonight.
It's from 5 to 7 p.m. today at the hotel, 262 Commerce St.
RSVP by calling 824-5689 or e-mailing office@craig-chamber.com.
• Political party. No, really. It's a political party.
A "meat" and "drink" fundraiser for Dan Maes, Republican candidate for governor, is set for 6 to 8 p.m. Friday at American Legion Post 62, 1055 Moffat County Road 7.
The party includes a pig roast, music and dancing.
Call Jeanie at 734-5657 or Maggie at 629-1367 to learn more.
• West Theatre is bringing in "Easy A" and "You Again," which, true, might both be a tad cheesy, but I still think they look cute. Plus, I don't want to miss Betty White in "You Again."
Redbox has "MacGruber," "The Karate Kid" and "Mega Piranha," which looks so ridiculous it could be entertaining.