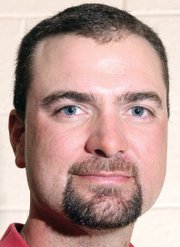 Name: Jeff Schlim
MCHS position: Math teacher
Years with MCHS: 6
Why did you become a math teacher?
"Although I wasn't ever the best math student, I always enjoyed my math and science classes. I can recall times when I was just totally lost in math class. You feel hopeless and unintelligent. Those experiences have definitely helped me become the teacher that I am. I can break things down mathematically to the lowest levels for students so that they feel comfortable with the material."
How has math curriculum changed since you were in high school?
"The curriculum has come full circle since I was in high school. After I graduated from Chamberlain High School in South Dakota in 1994, math curriculum changed to more of a theoretical approach in response to standardized testing. Now, the pendulum is swinging back toward traditional methods."
What's your favorite part of the school day?
"I just enjoy being around and interacting with the students and my fellow teachers. This includes in the hallways between classes, lunchtime, after school, and so on."
Why do you think you were chosen as an honored faculty member?
"I haven't forgotten what it's like to be a high school student. I realize that these kids have more going on in their lives than just academics. After considering everything students have to deal with and the variety of interests they have, I teach them the math they need to be successful while at the same time making it an enjoyable experience.
What makes a good student?
"Positive support from home makes a good student. Parenting that instills hard work and respectful behavior into their children is rarely frowned upon in our schools. Thankfully both of my parents did just that, and I became the successful person that I am. I did not always agree with their discipline at the time, but now I know they were always right. Hindsight is 20/20, I guess."