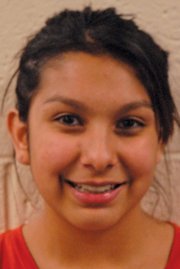 Age: 14, Moffat County High School freshman
Sport: Cheerleading
How did you get your start in your sport?
"My friend Jordan got me into it with the all-star team in seventh grade and ever since, I've been doing cheerleading."
What is it you enjoy about your sport?
"Everything. It just all touches my mind more than any other sport."
What kind of strengths do you bring to the team?
"Live entertainment. I'm kind of the joker."
What do you think you need to improve on?
"Probably my jumps."
What is one thing about your team an outsider wouldn't know?
"We have fun at every game, every practice. There's always a little bit of fun in cheerleading."
Favorites
Food: Pizza
Movie: "Titanic"
Color: Green
TV show: "16 and Pregnant"
School subject: Math
Holiday: Christmas