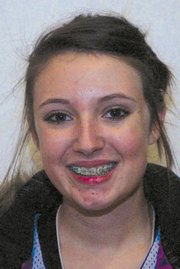 Age: 14, Moffat County High School freshman
Sport: Basketball
How did you get your start in your sport?
"I've been playing since I was in kindergarten."
What is it you enjoy about your sport?
"I just like having a team and being part of a team."
What kind of strengths do you bring to the team?
"I'm a pretty good shooter. Sometimes, it depends."
What do you think you need to improve on?
"Working at all the positions and knowing everything on the court."
What kind of goals does your team have for the season?
"To do better than we did in middle school and win more, play as a team."
What is one thing about your team that an outsider wouldn't know?
"We're all really, really good friends. Nobody has any problems with each other."
Favorites
Food: Pizza
Movie: "I pretty much like all of them."
Animal: Dog
Car: Chevy pickup truck
Leisure activity: Play sports or hang out with friends
Cartoon character: Mickey Mouse