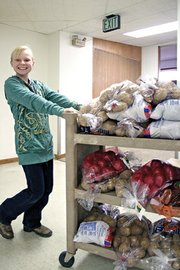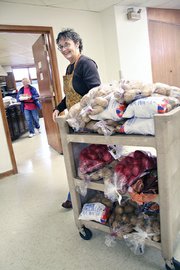 Susan Domer, a volunteer at St. Michael's Kitchen, was pushing a cart loaded with 150 pounds of potatoes Tuesday.
"I don't know where to put these," Domer said. "I guess that's a good problem."
The "good problem" was a result of a 2,650-pound food donation by the employees of The Memorial Hospital.
During the week of Nov. 8, members of TMH's radiology department challenged fellow staffers to a "Food Fight," a company-wide competition in which each department vied to donate the largest amount of food to St. Michael's Kitchen.
The kitchen, a non-denominational charitable organization of St. Michael Catholic Church, serves free food to the community from 11:30 a.m. to 1:30 p.m. Tuesdays and 4 to 6 p.m. Thursdays in the church basement, 678 School St.
In addition to 150 pounds of potatoes, the hospital supplied the kitchen with several hundred pounds of frozen turkey, frozen vegetables and canned goods.
The donation idea began with an observation by TMH executive chef Mark Stanczak.
Stanczak, who was instrumental in the kitchen's founding nearly a year ago, popped into the church for a visit earlier this month.
"It was like Mother Hubbard's cupboards," Stanczak said of the kitchen's dwindling food supplies.
Domer agreed the kitchen was in need.
"We were dipping into our own pockets to buy food," Domer said.
After his visit to St. Michael's Kitchen, Stanczak commented on the food supply during a managers' meeting at TMH.
TMH diagnostic imaging manager Rebecca Chisholm took note.
Chisholm said the news from St. Michael's Kitchen coincided with National Radiology Technologist Week, so she decided to use the occasion to draw awareness to the kitchen's plight.
Chisholm put out a company-wide flyer to challenge the other departments to donate.
"If any department brings more pounds of food than radiology, they will win a prize," Chisholm wrote. "To keep it fair for the smaller departments, the total food weight will be divided by the number of employees (within the department) to determine the winner."
Plant operations, a relatively small department, answered the call with 94 pounds of food per person.
Plant operations manager Dave Mucha said his employees were in it to win it.
"We don't get into stuff to lose," Mucha said.
Indeed, the next closest competitors — the administrative and radiology departments — donated 39 and 38 pounds per person, respectively.
To award the victors, Chisolm said the radiology department will treat the plant operations department to a meal of their choice.
Jeff Hougen, who works in plant operations, said winning was beside the point.
"We wanted to do it because it's a good cause," Hougen said. "With the economy the way it is, the last thing you want to think about is how to get food on the table for the holidays."
Although the food drive was originally meant to provide a free Thanksgiving meal to members of the community, Stanczak said there's enough food to go much further than Nov. 25.
"2,600 pounds is a lot of food," he said. "It might last them until Easter."
Stanczak had high praise for Chisholm's project.
"I kind of planted a seed, but she grew it into a beautiful, beautiful thing," he said. "She gets kudos and gold stars all around."
Mo Ridnour, a volunteer at St. Michael's Kitchen, agreed.
"They really outdid themselves," she said of the hospital. "It was a wonderful, wonderful delivery"
St. Michael's Kitchen will serve a free Thanksgiving dinner Nov. 25 to anyone who needs it during the regular Thursday hours, 4 to 6 p.m.
All are welcome.