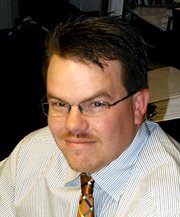 Business News Tips
The Daily Press wants to know what's happening at your business or place of
work, including promotions, new employees, transfers, awards, special deals, new products and more.
Send all your business news tips to Bryce Jacobson by e-mail at:
<
p>bjacobson@craig...
>
As many of you know, I am a big proponent of shopping locally.

Normally around this time of year, I would be asking you to spend all of your holiday gift shopping money in Craig, but not this year.
My request this time around is a little different.
For the benefit of the Moffat County School District, the city of Craig, Moffat County, and most importantly, your neighbor, I politely ask that you spend a little more in Craig this holiday season than you did last year. Not everything, just a little bit more.
If you spent $1,000 last year on your holiday shopping, and $100 of that was in Moffat County, do everyone a favor and spend $200 this year at home.
The amount of money that is derived from transactions made locally will impact this community not only in sales tax, but also in the amount of revenue earned by local businesses.

The more money local businesses earn, the greater the opportunity for them to hire more employees. More people working increases the chance for more money to be spent locally, and the economic trickle-down effect continues on and on.
I can't encourage you to shop local without also encouraging all local businesses to serve their customers to the best of their abilities.
Our community always puts its best foot forward during hunting season — retail stores, restaurants and many other types of businesses tend to really shine while hunters are here. Let's continue that throughout the year, starting now, and make that bolstered level of service the new standard.
Together, businesses and customers can enhance the local economy by simply making a point to do a little more.

So, this year give the best Christmas present a community can receive and spend more in your community than you did last year.