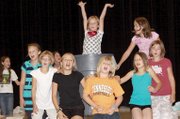 If you go
What: Production of "Annie Jr."
When: 2 and 7 p.m. Nov. 20
Where: Meeker High School auditorium, 550 School St., Meeker
Admission: $7 per person, or $25 per family. Free for children 5 and under.
— For more information, call 878-3403
There's an old adage in show business: never work with animals and children.
But, Laurie Zellers doesn't buy it. She's working with both.
Zellers, along with fellow Meeker resident Kim Kummer, are co-directing "Annie Jr.," an abridged version of the famous musical, reworked for younger actors.
The show will be performed twice, at 2 and 7 p.m. Nov. 20 at the Meeker High School auditorium, 550 School St.
"The hardest part is keeping them focused, but they're remarkable," Zellers said of her young thespians. "They're like sponges. They take what we say and go with it.
"We're also using a real dog in the play. He is just awesome."
Zellers said she and Kummer, who both have young daughters, decided to work with children because it filled a need in Meeker.
"We wanted to target the younger kids," Zeller said. "Meeker has high school musicals and drama all the time, and we noticed the elementary kids would see the play and then sing and dance the parts during recess."
The kids didn't have an organized outlet for performance, Zellers said. So, the two mothers approached Eastern Rio Blanco Metropolitan Recreation and Park District in Meeker.
It worked.
"They helped us," Zellers said. "We went to them and asked if we could essentially be volunteer coaches. They helped fund it and helped with the (public relations)."
Zellers and Kummers' efforts began in April with the formation of a six-week acting class for 30 young children at the recreation and park district.
"We broke the six weeks into acting, singing, dancing, costumes and sets," Zellers said. "For the very last class, we put on a little skit for the parents."
After the final class, the teachers announced their intention to produce a musical.
"We told them at that time, 'Now that you've got these skills, we're going to have tryouts in August for 'Annie,'" Zellers said.
Forty children are involved in the production.
"There are seven main (characters) and then, of course, all these other little girls wanted to be a part of it, so they're extras," Zellers said. "We tried to include everyone."
Zellers and Kummer have no professional theater experience.
"I was in high school plays, I sing, I play piano," Zellers said. "Nothing professional, nothing like that. I've always just loved musicals."
Zellers said she's receiving support from other adults in the community and high school students. The high school students, who are playing the adult roles in "Annie Jr.," have been particularly helpful.
"They're really mentoring these younger kids," Zellers said. "They love them, they're helping them. There's no discord."
Zellers said the play is shaping up better than she expected.
"I think Meeker is in for a surprise," she said. "While developing this play, I can't tell you how many times we've gotten chills or tears in our eyes."