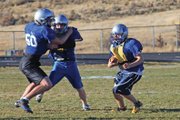 Game at a glance
Moffat County High School Bulldogs
(5-4 overall, 4-2 in Western Slope League)
vs
Steamboat Springs High School Sailors
(0-9 overall, 0-6 in WSL)
— Kickoff is at 7 p.m. tonight at the Bulldog Proving Grounds, 900 Finley Lane
Getting to the playoffs
Currently, the Moffat County High School Bulldogs are the 16th ranked team in Class 3A, according to the Colorado High School Activities Association power rankings.
The top 16 teams make the playoffs, but the Bulldogs would not advance to next week in the current scenario. The reason for that is that each league champion in 3A advances to the playoffs.
Frederick and Skyview are ranked 25th and 26th, respectively, in the power rankings, but with wins tonight they would win a league title and automatically advance to the playoffs. That would bump the 15th and 16th teams in the power rankings out of the post-season.
"All we can do is win, cross our fingers and hope for a good phone call Saturday morning," Hafey said.
Other teams the Bulldogs are cheering for are Palisade and Glenwood Springs. That's because if Delta or Rifle upset either of those teams, they would likely move ahead of the Bulldogs in the point standings, even though Moffat County beat them.
"We lost to the second-ranked team in 2A and three top-five teams in 3A, so that has to count for something," Hafey said.
There are too many scenarios to play out, but know that if the Bulldogs don't win tonight, they have no chance to advance to the playoffs for the first time since 2006.
Power rankings
2010 Class 3A Standings - Week 9
(School W-L points)
1 Elizabeth 9-0 85.222
2 Glenwood Springs 8-1 83.333
3 Palisade 8-1 82.111
4 Mountain View 8-1 80.333
5 Roosevelt 8-1 80.222
6 Lewis-Palmer 8-1 79.556
7 Erie 7-2 78.444
8 Silver Creek 7-2 77.889
9 Windsor 7-2 76.667
10 Palmer Ridge 6-3 76.556
11 Vista Ridge 7-2 76.556
12 Evergreen 7-2 75.333
13 Canon City 6-3 75.111
14 Englewood 8-1 74.333
15 Centaurus 7-2 74.222
16 Moffat County 5-4 71.667
17 Classical Academy 6-3 70.222
18 Holy Family 6-3 69.889
19 Delta 5-4 69.556
20 Rifle 6-3 69.444
21 D'Evelyn 5-4 68.556
22 Kennedy 5-4 68.222
23 Sierra 5-4 67.667
24 Pueble East 5-4 67.111
25 Frederick 5-4 66.889
26 Skyview 6-3 65.444
27 Harrison 5-4 65.000
28 Sterling 4-4 64.500
29 Discovery Canyon 4-5 64.444
30 Pueblo Centennial 4-5 63.778
When CJ Walt saw the football schedule for this year, he liked that the last regular season game of his senior year was against Steamboat Springs.
"I circled that game," Walt said. "It's a big one for us."
The Western Slope League athletic directors did what they could to set up rivalry games this year in the last week of the season.
So, this week's slate includes Glenwood Springs versus Rifle, Battle Mountain versus Eagle Valley and tonight's Yampa Valley showdown in Craig.
"I love how they set that up," Moffat County coach Kip Hafey said. "It's a great way to finish."
When they looked at the schedule, Hafey and Walt both said they would have never imagined that Steamboat wouldn't have a win going into tonight.
"They've been so good for so long," Walt said. "It's almost unbelievable that they haven't won."
The Sailors are coming off one of the best seasons in school history last year, including a state-championship game appearance. But the Sailors have yet to win this season, sitting 0-9.
"We can't look at their record as an indicator," Hafey said.
Walt echoed his coach.
"They are good and they've lost a couple of close games, so we can't take them lightly," he said.
The Bulldogs have prepared this week for a passing and option look from the Sailors on offense. That has Walt and his defensive line excited for some time with the opposing quarterback.
"We really want to get into the backfield and hassle them as much as possible," he said.
On the offensive side of things, Hafey has confidence in his team's ability to be physical.
"I think our line can go toe-to-toe against anybody," he said. "They are really starting to gel and work well together."
Adding to the magnitude of this game is the fact that the Bulldogs haven't had a victory in this rivalry since a 40-24 win in 2004.
And, a loss would be not only devastating to the nine seniors suiting up, but it would probably kill the team's playoff chances.
"This team has done a great job of focusing on what it had to do every week the last three weeks," Hafey said. "That has resulted in three wins, and we look for the same this week."
If the Bulldogs win, they finish the season at 6-4, the same record as last season.
"It's tough to compare seasons," Hafey said. "But both years we were in must-win situations in the last game. I hope we come through this year like we did last year."
Kickoff for the rivalry game is at 7 p.m. at Bulldog Proving Grounds Stadium in Craig.