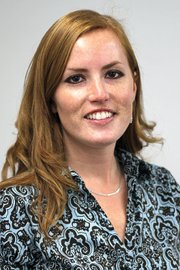 The Craig Daily Press has a new addition in the creative services department.
Kasey Wells, 23, has joined the Daily Press as its newest graphic designer. Wells fills a position previously held by Steamboat Springs resident Aaron Lugo.
Her first day was Tuesday.
Laura Vermeulen, Daily Press creative services manager, said Wells is a "wonderful addition" to the newspaper's design staff.
"Kasey's design experience and professional background make her a great fit for this position," Vermeulen said. "She has a great eye for detail that will help her create exceptional advertisements."
Wells was born in Alabama and raised in Monte Vista. She attended Colorado State University at Pueblo from January 2006 to May 2009. She graduated with a Bachelor's of Arts degree in Mass Communication.
Wells also minored in art while attending college and said she loves to paint and is interested in most things related to fine arts or creativity.
She attended Sargent High School in Monte Vista. She was most recently employed at a bank in Monte Vista, but said she jumped at the opportunity to exercise her passion for design.
"I am so excited to be here," she said. "It is a great opportunity and I am looking forward to working with the Daily Press staff and the Craig and Moffat County community."
Wells said when she is not painting or designing, she can be found with friends and family or playing with her dog, Diamond. She also enjoys snowboarding and cooking.
"We are grateful to have Kasey aboard and can't wait to see what she can do," Daily Press Publisher Bryce Jacobson said. "We feel that she can bring a lot of talent and expertise to our already exceptional creative services staff."
To reach Kasey, call 875-1780 or e-mail her at kwells@craigdailypress.com.