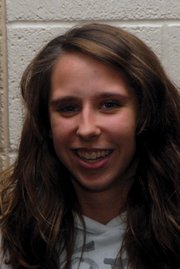 Age: 17, Moffat County High School senior
Sport: Volleyball
How did you get your start in your sport?
"I just thought it looked like fun in seventh grade, so I kept playing it."
What is another sport that you would like to play this time of year other than your current one?
"I don't think there's anything. I love volleyball."
What's one thing you'd like to improve in your sport?
"Probably my passing."
What do you like best about your coaches?
"If we do anything wrong, they'll help us on it."
What is one thing about your team that an outsider might not know?
"Probably how close we are. We can be really crazy together."
Favorites
Food: Oreos
TV show: Anything on Disney Channel
Band: "I like all kinds of music. I don't really have a favorite."
Movie: "The Notebook"
Animal: Moose
Leisure activity: Hanging out with friends