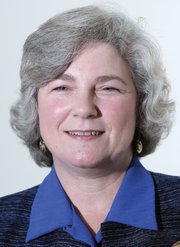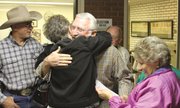 Moffat County Commissioner Tom Mathers said he knew exactly why county voters chose him to serve another four years in the District 3 seat during Tuesday's general election.
"It was my honesty," he said.
Mathers, 61, the incumbent District 3 commissioner, defeated write-in candidate Kerry Moe by 2,633 votes. He received 3,271 votes, or about 84 percent, to Moe's 638 votes, or about 16 percent.
Mathers, who was born and raised in Moffat County, served on the county commission from 1988 to 1992, and was elected again in 2006.
Moe, 48, filed as a write-in candidate for the election in late August. Her husband, Frank, ran unsuccessfully for the same seat in the Aug. 10 Republican primary election against Mathers.
"I feel relieved," Mathers said shortly after looking at the voting results at the Moffat County Courthouse on Tuesday. "I'm glad it's finally over and we can get back to work."
Mathers said he had a good feeling about being re-elected Tuesday morning, but as the day progressed, he said his feelings began to change.
"I can't think of anybody going into an election knowing that they are going to win," he said.
Mathers said his biggest concern was of how the public would react considering current political movements and philosophies.
"It's that silent majority," he said. "It is just so hard to read what they are going to do and what they are thinking."
He said he was glad that a "good majority" of voters felt he was running the county well and want him to continue in his job of representing them.
"I think it was also my ability to not spend on everything that comes along," he said. "It also helped because I'm a homegrown boy because I've been here.
"My roots are here."
Mathers said he wanted to thank the voters for showing their support for him and he would do "the best I can to keep Moffat County, Moffat County."
As the commissioner headed out of the courthouse late Tuesday night, he said he was heading to his downtown bar for a planned "cheers or tears" party.
"It'll be cheers," he said with a laugh.
Moe could not be reached for comment as of press time Tuesday.