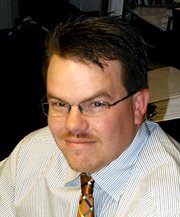 Business News Tips
The Daily Press wants to know what's happening at your business or place of
work, including promotions, new employees, transfers, awards, special deals, new products and more.
Send all your business news tips to Bryce Jacobson by e-mail at:
<
p>bjacobson@craig...
>
As the local and national economy continues its slow recovery, I am more convinced than ever that consumer confidence is one of, if not the only, indicator that can predict where things are going.
One national example indicates consumer confidence is growing.
According to many experts, Mother's Day spending both locally and online were up between 4.2 and 6.5 percent.
The final results of what actually happened have yet to be tabulated, but I am hopeful they were correct.
To take a look at local consumer confidence, there are several statistics I can put some faith in, one being sales tax collected by the city of Craig and Moffat County. So far that data is not fairing too well this year in comparison to 2009, let alone 2008 or 2007.
Due to the delay in reporting these numbers and my desire to see the glass half full, I am going to rely on another piece of consumer confidence, albeit one that's unofficial, to consider.
That is the number of people I see shopping in Craig and Moffat County as an indicator that things are pointing in the right direction.

I attempted to install a basketball hoop on my garage Saturday, and like any manual project I embark upon, multiple trips to hardware stores were required.
Each time I went, it seemed that the stores were really busy.
I don't know for sure, but I can tell you it seemed like people were out and about in Craig spending money this weekend.
In closing, I am not an economist and therefore this is just my opinion.
I really don't know how to impact consumer confidence and encourage people to shop locally, other than to ask you, the readers, to spend some money.
Give the economy the boost it sorely needs by putting more of your hard-earned dollars to work.
It's important that we once again have faith in the future.