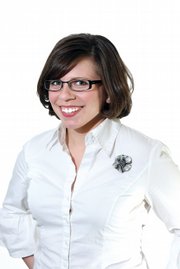 Weekend movie show times
29 E. Victory Way
824-2000
• "Iron Man 2" — Rated PG-13; 7 and 9:05 p.m. Friday and Saturday and 4 and 7 p.m. Sunday.
• "Shrek Forever After" — Rated PG; 7 and 9:05 p.m. Friday and Saturday and 4 and 7 p.m. Sunday.
Tickets: $7 for ages 10 and older, $5 for ages 9 and younger.
Sunday matinee: $5 for ages 10 and older, $4 for ages 9 and younger.
Submit your event
Submit your event's details for consideration by emailing me at mballeck@craigdai... or calling 875-1790.
Mr. Weatherman calls for a break in the cloudy, rainy weather this weekend. Let's see if it's true.
Here's hoping, considering the outdoor events scheduled for this weekend.
■ The Craig Chamber of Commerce Ambassadors host a business after-hours mixer from 5 to 7 p.m. today at the Holiday Inn of Craig,, 300 S. Colorado Highway 13.
With the Holiday Inn's own Sports Page Bar and Castle Ranch Steak House serving up their best, it's sure to be a tasty event.
Everyone's welcome, just RSVP by calling 824-5689 or e-mailing office@craig-chamber.com.
■ Where the Hell's Maybell? got rescheduled to Saturday from last weekend after rain ruined its plans.
So, the 30-mile bike ride from Craig to Maybell along U.S. Highway 40 starts at 7 a.m. at Northwest Storage or at 7:30 a.m. at Western Knolls on Saturday.
There will be a $6 breakfast benefiting Bear River Young Life when you arrive in Maybell.
The city offers rides back to town for $5. Just call Pam at 826-2004 to sign up.
■ Hunting, fishing and all that outdoorsy stuff.
Learn the techniques or get a refresher at Saturday's "Cast 'n Blast," from 9 a.m. to 4 p.m. Saturday in the Axial Basin area between Meeker and Craig.
It's free and includes lunch.
Just don't forget to pre-register by calling the Division of Wildlife's Meeker office at 878-6090. And, if you're 16 and older, you need a current fishing license.
■ Hayden Speedway races kick off at 6:30 p.m. Saturday for opening night.
Check out the exciting track action, just don't forget your ear plugs.
Tickets are $8 for adults or $4 for those 12 and younger. Season passes are $65.
The track is located at 37900 Routt County Road 53.
■ Who doesn't love spaghetti?
And when you combine it with a good cause, it tastes even better.
The youth of St. Michael Catholic Church are hosting a spaghetti dinner, tagged "A Taste of Italy," from 4 to 7 p.m. Sunday at the church, 678 School St.
It costs $10 for adults and $8 for children.
■ The Sports Page Bar at the Holiday Inn of Craig, 300 S. Colorado Hwy. 13, features the Jay Ketchem Band from 9 p.m. to close on Friday and Saturday and the weekly salsa lessons starting at 7 p.m. Sunday.
■West Theatre is showing "Iron Man 2" for a third week — so get over there if you've been dragging your feet — and "Shrek Forever After," the final chapter in a series that even the most cynical can't help but find entertaining.