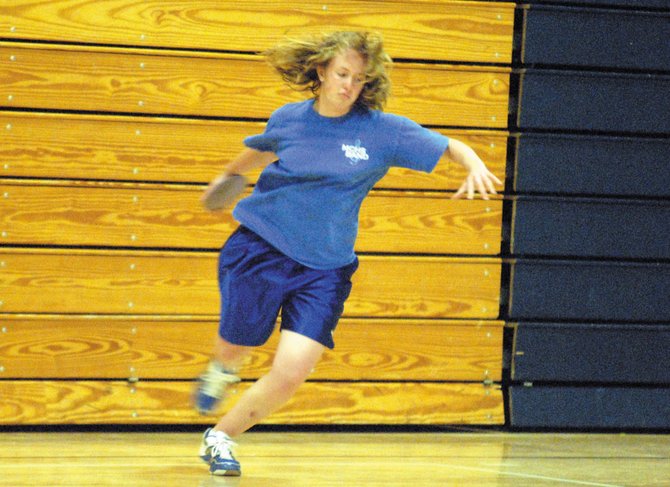 MCHS track and field hopes to qualify more athletes during league championships
Individual and team results from the May 8 Tiger Invitational track and field meet in Grand Junction:
(Name, Event, Time, Place)
Maddy Jourgensen, 1600-meter run, 5:19.30, 1
3200-meter run, 11:52.12, 2
Eryn Leonard, 3200-meter run, 12:18.57, 7
Lauren Roberts, High jump, 4'10", 3
Long jump, 16'7.25", 3
Triple jump, 33'7.25", 3
Lindsey Yoast, Discus, 103'9", 6
Kimberly Schaffner, Discus, 101'04", 8
Jasen Kettle, 100-meter dash, 11.35, 5
200-meter dash, 23.23, 5
4x100-meter relay, 44.64, 4
4x200-meter relay, 1:33.13, 6
Corey Wojtkiewicz, 800-meter run, 2:06.81, 6
4x800-meter relay, 8:26.19, 3
Alfredo Lebron, 1600-meter run, 4:38.54, 7
3200-meter run, 9:53.07, 4
Cole DuBois, 300-meter hurdles, 42.97, 6
4x400-meter relay, 3:34.90, 9
Braeden Sullivan, 4x100-meter relay, 44.64, 4
4x200-meter relay, 1:33.13, 6
Brian Ivy, 4x100-meter relay, 44.64, 4
4x200-meter relay, 1:33.13, 6
Long jump, 20'11.5", 4
Triple jump, 44'11.5", 1
Pablo Salcido, 4x100-meter relay, 44.64, 4
4x200-meter relay, 1:33.13, 6
4x400-meter relay, 3:34.90, 9
Alex McCoy, 4x400-meter relay, 3:34.90, 9
4x800-meter relay, 8:26.19, 3
Daniel McClellan, 4x400-meter relay, 3:34.90, 9
Miguel Molina, 4x800-meter relay, 8:26.19, 3
Rene Molina, 4x800-meter relay, 8:26.19, 3
Jeremiah Gordon, Shot put, 42'3.5", 7
Team standings
(Team, Points)
Girls:
Wheat Ridge, 96.5
Palisade, 71
Grand Junction, 70
Durango, 64
Fruita Monument, 62
T6 Montrose, 51
T6 Horizon, 51
T8 Eagle Valley, 49
T8 Central, 49
Moffat County, 41.5
Pomona, 39.5
Montezuma-Cortez, 29
Dakota Ridge, 14
Basalt , 6
Crested Butte, 5
Debeque, 1.5
Boys:
Pomona, 106
Ralston Valley, 81.5
Fruita Monument, 65
Moffat County, 52
Durango, 51
Central, 50
Palisade, 47
Grand Junction, 46
Montrose, 34.5
Horizon, 24
Wheat Ridge, 23
Montezuma-Cortez, 22
Eagle Valley, 19
Dakota Ridge, 15
Roaring Fork, 14
Norwood, 6
If today is Cole DuBois' last chance to qualify for the state track meet, then he plans on going out with a bang.
The Moffat County High School senior will compete at 1 p.m. today and Friday in the Western Slope League championships in Grand Junction alongside his track and field teammates in the last qualifying event of the spring.
DuBois, who competes in 300-meter hurdles, is currently sitting in 20th place. Only the top-18 make the May 19 through 21 state meet in Denver.
"I know I can run that fast," he said. "(But) with the hurdles, if it all doesn't go right, just hitting one hurdle can cost me the .4 seconds I need to get."
The league championships will also be the team's last chance to claim a stake at the top of the league.
Several athletes like, Brian Ivy and Maddy Jourgensen, have qualified for the state meet, and the boys four-by-100 meter relay team and Jasen Kettle in the 100-meter dash are close to qualifying.
Just two spots out from qualifying, DuBois said he knows he has work to do.
"This is my last chance to run that time," he said. "It would mean a lot for me to go to state. But, if I can't run fast enough, I can't run fast enough."
DuBois said this year has been filled with the best performances of his high school career, and he would like to end it with a trip to state.
"It'd be nice to go my senior year," he said. "It would be a good way to finish off the year.
"My times have improved this year from last year, and I've been doing well at the meets."
DuBois said he needs to stay positive.
"I need to get my head in the right place," he said. "I just need to keep telling myself that I can get the time I need to."
Little Feet Track Meet set for Saturday
As the MCHS track and field team competes today and Friday in Grand Junction, the team will return Saturday for a "smaller" track meet.
The first Little Feet Fun Track Meet will start at 10 a.m. with registration, and events will begin at 11 a.m.
The meet, which is geared toward first- through sixth-grade students, will be at the MCHS track, 900 Finley Lane.
Lance Scranton, MCHS track and field coach, said the meet will not only be a fun activity, but a way to introduce the sport to young athletes.
"We want to get the young kids out, and let them see what track and field is about," he said. "Most of them aren't exposed to track until junior high. If we show them how much fun it is, it might help them when they get to junior and high school."
Registration costs $5 per participant.
There will be seven events scheduled, including the shot put, discus, hurdles, a sprint, high and long jumps, and a relay.
Scranton said if there is enough interest, the mile would be added as an event.
"Little kids love to run and love to compete," he said. "We hope to turn this into an annual event."