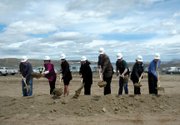 For almost two decades, Colorado Northwestern Community College officials, board members, teachers and students waited.
They waited with patience, and persisted on the state and community levels to meet an important need in Craig.
On a windy Monday afternoon, CNCC, city, county and state officials turned out to celebrate a realized dream.
Officials broke ground on two new CNCC campus buildings on a 38-acre parcel off Moffat County Road 7 west of Craig.
Aurora-based contractor Adolfson & Peterson Construction will erect a 70,000-square-feet academic building and an 18,000-square-feet career/technical building on the site in coming months.
Gene Bilodeau, CNCC vice president of administration, said it was a "thrill" to see eight gold shovels hit the dirt where the new campus is scheduled to open in the fall of 2011.
"It's a really exciting feeling," he said. "We've heard about it, we've talked about it, and now we're finally going to get to see it happen."
Just before the ceremony, Craig Mayor Don Jones expressed his gratitude for the work the State Board for Community Colleges and CNCC put in to moving the project forward.
"This groundbreaking is a great step for the city of Craig," he said. "It's a great day and it's been a long time coming."
Bilodeau said the city and Moffat County have been staunch supporters of the project throughout the process of acquiring funding and land.
Without community support, he said, there might have been nothing to celebrate this spring.
"The primary reason we received the big money from the state was because we could leverage that locally with the mill levy and with the major gift campaign," Bilodeau said. "Things don't happen in Craig without the support of the community."
Nicole Inglis can be reached at 875-1793 or ninglis@craigdailypress.com.