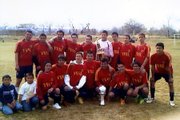 The El Mexico soccer team won the March 6 and 7 Grand Junction soccer tournament, which included 14 teams.
El Mexico, of Craig, played twice March 6, and won its first game, 7-0, and its second game, 1-0.
On March 7, the team tied its first game and qualified for the finals.
The final game was tied, 1-1, but El Mexico won, 4-3, on penalty kicks.
The team's goalie, Armando Lopez, also was honored as the tournament's top goaltender.