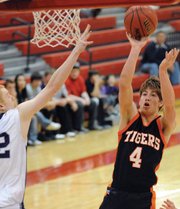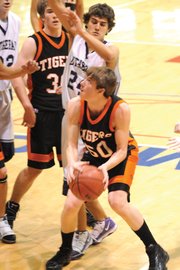 Game statistics
Lutheran Parker 57, Hayden 40
Hayden 14-11-10-5 — 40
Lutheran Parker 8-18-14-17 — 57
Hayden — Graig Medvesk 2 9-12 13, Rene Valdez 2 0-2 4, Jon Lee 0 2-2 2, Dylan Sather 1 0-0 2, Raul Valdez 2 3-7 9, Ben Williams 3 3-4 9, Mark Doolin 0 1-2 1. Totals 10 18-27 40.
Lutheran Parker — Neil Jost 6 3-4 15, Zach Loptien 1 5-6 7, Michael Thielen 1 0-1 2, Sparky Ranney 1 0-0 2, Jonny Foote 3 1-2 7, Andrew Bowers 6 3-5 15, Connor Parkinson 1 0-0 2, Jordan Murphy 1 0-0 2, Nate Radic 1 0-0 2. Totals 21 15-24 57.
3-pointers: Hayden (2) — Raul Valdez 2.
Pueblo — From the start of summer, the Hayden High School boys basketball team's goal was to make it to the state tournament.
That much it accomplished last weekend by romping through the regional tournament, earning the Tigers their first state tournament berth in 28 years.
That's going to have to be enough.
The Tigers lost their second consecutive game in the state tournament Friday, falling 57-40 to Lutheran Parker. The loss eliminated Hayden from the Class 2A state tournament in Pueblo.
"We didn't do as good as we wanted to do, but it's always good to come to state," junior guard Ben Williams said after the game.
The writing of Hayden's demise may have appeared on the wall before that first season goal — making the tournament — had even become a reality.
Senior forward Murphy Smartt, one of the team's leading scorers and rebounders, said he suffered a 75 percent tear of his ACL late in the regional championship game. After playing more than three quarters in Thursday's first-round state tournament game, he tore the ligament all the way through and missed the entirety of Friday's game.
"It hurt. We wanted him out there really bad," Williams said. "But we couldn't have him. Some of us had to step up."
His loss was a blow, but it didn't cripple Hayden. In fact, the Tigers held the lead multiple times in the first half. They were up six after one quarter and three late in the second. Luth­­eran Parker's Neil Jost sank a pair of free throws to give his team a one-point lead in the waning seconds of the period, however. Lutheran Parker then reeled off a crushing 9-1 run to open the third quarter.
Hayden never fully recovered, although it made the game close at several points of the second half.
Graig Medvesk hit a pair of free throws in the third quarter to cut the deficit to four points, and Raul Valdez hit two free throws in the fourth quarter to make it four again.
But the contest was no longer the back-and-forth affair of the first half.
When Medvesk, Hayden's other leading scorer, fouled out with 5 minutes, 24 seconds remaining in the game, the team was in trouble.
The Lions put on one final run in the fourth quarter that served as a coup de grace to the undermanned Tigers.
"Without Murph or Graig on the floor, that was hard," Hayden coach Mike Luppes said. "Still, we kept coming at them. The kids played hard and gave a great effort the whole game. In the end, we just got out manned and out gunned."
Hayden, 19-7 on the season, was led in the game by Medvesk, who made just two field goals but nine free throws to finish with 13 points.
Raul Valdez and Ben Wil­liams each had 9 points for the Tigers.
Lutheran was paced by Jost and Andrew Bowers, with 15 points each.
— To reach Joel Reichenberger, call 871-4253 or e-mail jreichenberger@steamboatpilot.com