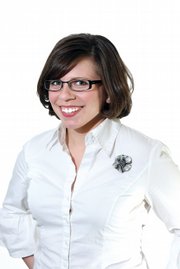 Weekend movie show times
29 E. Victory Way
824-2000
"Alice in Wonderland" — Rated PG; 7 p.m. and 9:05 p.m. Friday and Saturday, 4 p.m. and 7 p.m. Sunday
"She's Out of My League" — Rated R; 7 p.m. and 9:05 p.m. Friday and Saturday, 4 p.m. and 7 p.m. Sunday
Tickets: $7 for ages 10 and older, $5 for ages 9 and younger
Sunday matinee: $5 for ages 10 and older, $4 for ages 9 and younger
Submit your event
Want to see your event featured in my "Livin' It Up" column? Submit the details for consideration by emailing me at mballeck@craigdai... or calling 875-1790.
There's not an abundance of activities in Craig this weekend, which may be a welcome change.
• This might be a good weekend to put your feet up and enjoy a good book or movie. Or, with spring just around the corner (I can be hopeful, can't I?), this might be a good weekend to begin your spring cleaning.
You can plan for a garage sale, organize closets, sort the kids' toys or clean those pantry shelves we only seem to get to once a year or so.
Keith and I will be doing some of our spring cleaning this weekend in anticipation of warm weather as well as a visit from Keith's in-laws.
• For those of you interested in taking in a good movie this weekend, West Theatre is showing "Alice in Wonderland"and "She's Out of My League".
"Alice" is on for a second week, which is good if you missed your first chance.
"She's Out of My League" is a comedy about a guy who makes an unlikely connection with a smokin' hot babe. It looks pretty funny, so I'm sure we'll get around to seeing that sometime soon.
• The Sports Page Bar in the Holiday Inn of Craig, 300 S. Colo. Hwy. 13, offers open mic night from 8 to 10 p.m. Friday.
The bar also has a beer pong tournament with prizes starting at 7:30 p.m. Saturday.
Wow, that sure would take me back to my college days.
Both nights this weekend feature 25-cent shots from 8:30 to 9:30 p.m.
• The Elks Lodge, 43 W. Victory Way, offers bingo every Friday night.
Doors open at 5 p.m., and games begin at 6:15.
The Veterans of Foreign Wars Ladies Auxiliary offers bingo from 1 to 4 p.m. every other Saturday at the VFW Post 4265 at 419 E. Victory Way. The next games are on March 20.
• All you sports fans already know that it's time to get geared up for March Madness basketball action.
Look for your NCAA March Madness tournament bracket next week in the Craig Daily Press, and catch round 1 action on March 18.