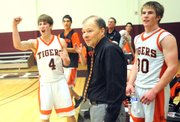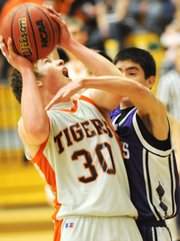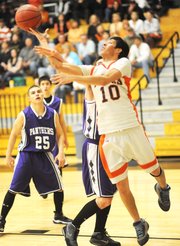 Game statistics
Hayden boys 65, John Mall 35
John Mall — 10-10-10-5 — 35
Hayden — 11-19-14-21 — 65
John Mall — Steven Rodriguez 3 0-0 6, Jacob Wiggins 4 0-0 12, Charlie Whitehead 4 0-0 8, Michael Maldonado 1 0-0 3, Dylan Tenorio 2 0-0 4, Carl Vigil 0 0-2 0, Justin Eccher 1 0-0 2. Totals 15 0-2 35.
Hayden — Graig Medvesk 4 2-7 12, Rene Valdez 4 1-2 9, Jon Lee 0 1-2 1, Dylan Sather 1 2-2 4, Raul Valdez 3 0-0 9, Ben Williams 6 3-6 16, Murphy Smartt 3 4-6 10, Brian Hoza 2 0-0 4. Totals 23 13-25 65.
3-pointers: John Mall (5) — Wiggins 4, Maldonado. Hayden (6) — Ra.Valdez 3, Medvesk 2, Williams.
Turns out, they had plenty of time to think about it — what they'd do, who they'd hug or whether they'd scream and shout.
As the fourth quarter ticked away Saturday afternoon in Mesa State College's Brownson Arena in Grand Junction, the starters for the Hayden boys basketball team had the chance to sit on the sideline and contemplate how exactly they'd celebrate that they had rolled over John Mall High School, they had won the regional championship, and they had earned a trip to next weekend's state tournament.
The Tigers beat the Panthers, 65-35.
"This feels real good," junior guard Ben Williams said. "At the beginning of the year, I knew we could be good. We knew we could do it if we put it all together."
The win capped an astonishing finish to the season for the Tigers and earned them a trip to state for the first time since 1982.
Hayden won the district championship by beating Class 2A's then-No. 1 team, Meeker. The squad backed up its suddenly lofty expectations with a pair of routs in the four-team regional bracket, winning those games by an average of more than 26 points.
Saturday's game illustrated well what set this year's 19-5 squad apart from last season's 10-10 team.
The Tigers' two leading scorers on the season, junior guard Graig Medvesk and senior forward Murphy Smartt, played well throughout the game, but, by their standards, both finished with modest scoring totals.
Medvesk had 12 and Smartt had 10.
Instead, Williams poured in 16 to lead all scorers. Athletic senior Rene Valdez came alive in the second half and scored 9, and his brother, senior Raul Valdez, bombed in three 3-point shots for 9 points.
"We have had a lot of people step up at different times of the year on the offensive end," Hayden coach Mike Luppes said. "That's wonderful to have happen. They're getting more and more confident, and it's a good time to be playing with a lot of confidence."
The Panthers hung tight early thanks to the hot shooting of sophomore Jacob Wiggins, who hit four 3-pointers, and the talented hand of junior big man Charlie Whitehead, who at times proved a step too fast for the Tigers in the paint.
The score was 11-10 after a quarter, and although Hayden opened up a 10-point advantage early in the second, it was a 6-point game later in the period and a 4-point deficit after Wiggins dropped a pair of 3-pointers to open the second half.
Hayden's depth wore John Mall down, however. Wiggins and Whitehead, who finished with a combined 20 points, fouled out early in the fourth quarter.
The Tigers, meanwhile, seemed to expand their lead exponentially. Raul Valdez hit a 3-pointer to make it 14 points. Medvesk hit a free throw to make it 17.
After Rene Valdez found Williams with a behind-the-back pass midway through the fourth, the rout was on.
"We had to back off a little bit. We're not used to being in foul trouble," John Mall coach David Harriman said. "We haven't faced a lot of height, and in our side of the state, teams play man to man. Hayden came out in a zone, and we weren't used to running that offense. We had no success whatsoever in our zone offense."
John Mall is in Walsenburg, about an hour south of Pueblo.
The end of the game wasn't without a scare for the Tigers, though it didn't come from the Panthers.
Smartt got the ball on a breakaway with about 1:30 remaining in the game and appeared to injure his knee as he leapt for a dunk. The ball bounded off the rim, and he limped to the bench. A quick post-game trip to the hospital relieved fans' worst fears, however, and the injury was diagnosed as a sprain.
"They said just treat it like a sprained ankle," Luppes said.
Turns out, maybe the Tigers had too much time to think about it, at least for those expecting a loud, whooping, crying party. When the time finally came, the clock expired, the Tigers pumped fists and exchanged a few quick pats on the back.
They accepted congratulations from John Mall, from friends and from family and with a look of determination set their focus on the state tournament.
"It's all good teams from here on out, so we have to be ready," Williams said.