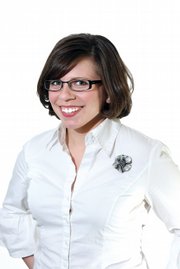 Weekend movie show times
29 E. Victory Way
824-2000
"Alice in Wonderland" — Rated PG; 7 p.m. and 9:05 p.m. Friday and Saturday, 4 p.m. and 7 p.m. Sunday
"The Wolfman" — Rated R; 7 p.m. and 9:05 p.m. Friday and Saturday, 4 p.m. and 7 p.m. Sunday
Tickets: $7 for ages 10 and older, $5 for ages 9 and younger
Sunday matinee: $5 for ages 10 and older, $4 for ages 9 and younger
Submit your event
Want to see your event featured in my "Livin' It Up" column? Submit the details for consideration by emailing me at mballeck@craigdai... or calling 875-1790.
There's a good variety of happenings this weekend, from a wild party to laidback movie selections. Take your pick of the style of weekend you'd like.
• The 64th annual Craig Kiwanis Play is Friday and Saturday at the Moffat County Fairgrounds Pavilion. If you don't have a ticket, too bad, so sad. They're all sold out.
Better luck next year.
Still, you can join in the after-party fun, as Kiwanis Play attendees can usually be found — donning deep red lipstick marks on their foreheads and cheeks — at any of the local bars following the performance.
• If you're engaged, or planning another type of event, the Wedding Expo on Saturday is the ideal place to research a number of vendors at once.
The event runs from 9 a.m. to 5 p.m. at Centennial Mall, 1111 W. Victory Way, and is hosted by the Craig Daily Press and Centennial Mall.
Among the attractions are a chance to win a free engagement session and 16-by-20-inch mounted print from A Moment's Focus and a two-night getaway from Creekside Guest Cabin.
Those are some nice door prizes, if you ask me.
• Country artist Erik Johnson plays Friday and Saturday nights at the Sports Page Bar in the Holiday Inn of Craig, 300 S. Colo. Hwy. 13.
The bar also offers 25-cent shots from 8:30 to 9:30 p.m. Friday and Saturday.
That could make for an interesting start to the evening.
• Love celebrities and staying up all with all the latest movie news?
The Academy Awards, known to the masses as the Oscars, air at 6 p.m. Sunday on ABC.
Do your research beforehand and see how well you can pick the winners by finding all the nominees at www.oscars.com.
• West Theatre will be showing "Alice in Wonderland" and "The Wolfman" this weekend.
Johnny Depp stars as the Mad Hatter in "Alice in Wonderland." Who could not love that? Plus, it's rated PG, at least in part because of the smoking caterpillar in the film (according to IMDb). A smoking caterpillar alone is enough to make me want to watch.
"The Wolfman" has the feeling of a cheesy horror flick to me, but looks like something the hubby would like.
The costumes and architecture (OK, the set) could be enough to entice me to sit through it with him.