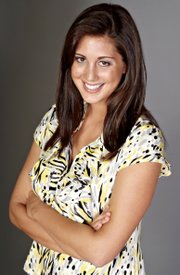 As a little girl, I would sneak into my mother's room while she was in the shower and rummage through her drawers. I didn't have to be sneaky around her because she was a generous woman, one who would give the world to her children if she could.
Yet, there was something spontaneous about being sneaky and being caught. I wasn't looking for her square-shaped princess earrings or her rose-colored lipstick. I wasn't trying to play dress-up, I was looking for one of her simple, baggy and worn T-shirts.
I would press the tarnished seams up against my body, jump on top of my parents' bed and admire myself in the mirror, peering over one shoulder, peering over the other and, of course, checking my backside to make sure the bagginess was plenty, the holes many and the comfort just right.
I loved the way her shirts barely brushed my shins, the way they made me feel as if I could jump off her bed and fly, or how they let me hide within them if I felt shy.
But, most of all I loved the smell.
I can still remember the smell.
I can still remember her smell.
It was the freshness of a spring rain, the softness of a baby's blanket and the subtle musk of a hard day's work.
She never wore perfume. Maybe it was because it gave her migraines. But I like to believe that it was because she was so naturally beautiful, even in a baggy white T-shirt.
I would never put her shirt back where it belonged. In fact, I would never take it off. I wanted her to see me. And she would catch me, jumping on the bed in her baggy T-shirt, with a mischievous smile, and my honey brown hair in disarray.
In mid-jump we would catch each other's eyes, smile awkwardly, then collapse to the ground laughing, laughing because it wasn't the first time I did this nor would be the last. Sometimes our laughs would be so constant and so many, that we would have to wipe tear puddles off the hardwood floor of our ranch home.
And now, 16 years later, I find myself in the exact same place, collapsed on the hardwood floor of our ranch home, in her baggy white T-shirt, waiting for her to come out the shower.
Except now, the tears are just mine and these unique memories are what remain of my mother.
I am 21. I am a college graduate. And I am still wearing my mother's worn, baggy white T-shirts. I guess some things never change.
I remember my mom would always say, "Sometimes it is better when things are the same. Sometimes it's better when there is no news, and no change."
She lived her life simply. Her favorite days were spent on the ranch, where she could escape. She would go for walks up and down the dirt road, plant colorful flowers amongst the wild ones, cook delicious lamb roasts and ride horses up to the sorting corral. She would escape everything but simple.
That is where I find myself tonight — escaping the change. And now that our lives have been turned upside down, she was right, no change is sometimes better.
Even though I still wear her worn t-shirts, my life has changed drastically without her. Not only was she a confidant, a mentor and a best friend ...

She is a habit. And she is the best habit anyone could ask for. This is the reason I still wear her white T-shirts, because it is habitual. Just like calling her after my flight lands is habitual or waking her up on Christmas morning is habitual, being my mother's daughter is habitual.
Although her white T-shirts are no longer baggy, they are still comfortable.
And although she is no longer here physically, she is forever instilled within me. Sorry mom, you are one habit that I will never break.