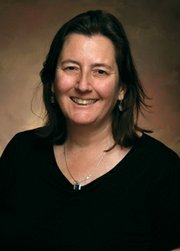 If you go
What: Presentation on health care reform effects on local businesses by Elisabeth Arenales, attorney with the Colorado Center of Law and Policy
When: 5:30 to 7 p.m. Wednesday
Where: Craig City Hall, 300 W. Fourth St.
— The event, which is sponsored by the Craig Chamber of Commerce, is free and open to the public. The chamber requests visitors RSVP. Call 824-5689.
Elisabeth Arenales believes there are a few things that can cut through the partisan noise surrounding the recently signed health care reform law.
Information, engagement and discussion.
President Barack Obama signed the health care reform bill into law March 23, but it will be several years before the full gamut of changes to health insurance will translate into reality.
That's why Arenales, an attorney and health care expert with the Colorado Center of Law and Policy, wants to work to educate Coloradoans on what health care reform means for individuals, families and businesses before the implementation process begins.
Arenales will appear tonight in Craig for a presentation on how national health care reform will impact local businesses.
Sponsored by the Craig Camber of Commerce and its health care committee, the event will focus on the effects of recent federal health care reform, and the timeline for potential effects on the local economy.
The presentation will take place from 5:30 to 7 p.m. today at Craig City Hall, 300 W. Fourth St.
"Our agency hopes to provide credible, timely information about a variety of things — in my case, health care — for everyone in the state," Arenales said. "It's important to talk to as many people in as many communities as we can."
Christina Currie, Chamber of Commerce executive director, said the chamber recently developed the health care committee to help facilitate Craig's transition into health care reform.
She said the chamber asked Arenales to give the presentation because it is important to make the facts about health care reform available to the public in a digestible manner.
"Health care reform was a massive change in the way this country looks at health care, from an individual standpoint and a business standpoint," Currie said. "There's so much misinformation out there and a general lack of understanding.
"We think it's important to get quality information out there in bite-sized pieces."
Upcoming changes
Arenales said it's important to think about where Colorado and the nation currently stand in the process, which is near the beginning.
Implementation will begin with a few changes, including an insurance pool for high-risk patients, which will become a reality within the next few months, Arenales said.
Also in the next few months, adults will be able to put their children up to age 26 on their health care plans.
But, bigger changes are coming down the pipeline, as well.
The state will soon have the opportunity to design its own insurance exchange for individuals and small businesses.
"There are going to be some decisions Colorado has to make," she said. "People, if they want to, from all parts of the state, can participate in that.
"Those conversations haven't started yet, but they will, relatively soon."
Bracing for change
In the presentation, Arenales will focus on what health care reform means for businesses large and small.
She said the biggest change will be the availability of tax credits to businesses with 25 employees or fewer.

"Overall, the projections are that it will lower costs for small businesses trying to provide health insurance for their employees," she said.
Currently, Arenales said small businesses pay 18 percent more than large businesses because of administrative costs, and the insurance exchange will help alleviate that.
Arenales hopes that the group discussion following the presentation will stay focused on the information in the health care bill, instead of partisan reactions.
"Since this is the law at this point, is there a way that we can move forward together to take maximum advantage of the opportunities that are there?" she said. "What we've found is that it's really helpful to have people understand the best (they) can what it means for them.
"There's a lot of things that are coming that need to be unfolded, and you can get an idea of where you fit into framework."
The event is free and open to the public, but the chamber asks visitors to RSVP. For more information, call 824-5689.
"We think it's important to get quality information out there in bite-sized pieces."
The event is free and open to the public, but the Chamber asks for visitors to RSVP. For more information, call 824-5689.
For more on this story, read Wednesday's Craig Daily Press or visit www.craigdailypress.com.