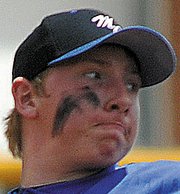 Although the American Legion Post 62 baseball team is comprised of mostly new players, the team turned to a familiar face for its first victory of the summer.
Playing a doubleheader Saturday in Granby against Middle Park, the Bulldogs won their first game of the summer, 15-1, behind a solid pitching performance by Bubba Ivers, who also started for the Moffat County High School varsity team.
Ivers pitched five innings and allowed only one hit — an infield single — and struck out 11.
"He threw exceptionally well," manager Justin Folley said. "The only hit against him was a weak ground ball."
Middle Park was able to turn the tables on the Bulldogs in the second game, and won, 11-0.
Ivan Nielsen started, but Middle Park was able to get on the board early, Folley said.
"Wyatt Oberwitte came in to relieve and pitched really well," he said. "He gave up a few hits, but he hasn't been on the mound for a while."
During the team's opening weekend June 5 against Rio Blanco, the Bulldogs scored 16 runs total in two losses.
During the first game, the Bulldogs scored 15, which was encouraging, Folley said.
"It was nice to see our bats wake up," he said. "Our young guys started hitting really well, which is good to see."
Leadoff hitter Zach Booco went 3 for 4 in the first game, Ivers went 1 for 2 with a double and catcher Brandon Galvan went 1 for 1 with three walks.
Galvan wasn't the only Bulldog who showed a knack for getting on-base.
"As a team, we drew 12 walks," Folley said. "We're still trying to get the bats to come around.
"I think this team can hit like last summer's team did, so it was good to see them take so many pitches."
But, as quickly as the offense came for the Bulldogs, it left in the second game, Folley said.
The Bulldogs will return home July 6 for a doubleheader against Steamboat Springs.
But, the team that will play will look vastly different than the one that was swept by Rio Blanco earlier in the season, Folley said.
"They're getting better every day," he said. "We're extremely young, but we're getting there."