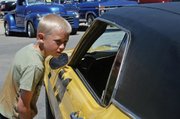 Winners
2010 Bear River Young Life & Colorado Cruisers Car & Motorcycle Show results:
• Best muscle car — Bob Kempley
• Best hot rod — Maury Schuesscer
• Best original — Harry McWilliams
• Under construction — Lawrence Sober
• Best rat rod — Jeff Cornett
• Best custom motorcycle — Lew Allen Blue
• Best motor — Tom Schrah
• Best of show motorcycle — Robert Clayton
• Best of show — Lane Laugesen
• People's choice — George Kidder
• Farthest traveled — Bill Smith (1,800 miles from North Carolina)
A car show is as much about those in attendance as the contestants and their cars, said Lane Laugesen, the best of show winner at Saturday's 2010 Bear River Young Life & Colorado Cruisers Car & Motorcycle Show.
As he packed up his 1938 Chevy Five-Window Coupe and shook the hand of the last admirer of his car, Laugesen, a New Castle resident, said he hoped that people were able to learn something about cars Saturday.
"Not everyone gets to see these old cars much," he said. "People seem to really admire cars of this age, especially kids."
Laugesen competed with more than 160 vehicles, including trucks, cars, motorcycles and even a boat, during the annual car show in the 400 and 500 blocks of Yampa Avenue.
The contestants entered their vehicles to compete in 11 different categories.
After four-and-a-half years of rebuilding and spending $75,000 of his own money, Laugesen said he has entered his car in about 40 shows, 35 of in which he has won an award.
"I like to take the car to a lot different shows," he said. "These cars are meant to be driven, so we drive it anytime we can."
Laugesen has done a lot of modifications to the vehicle after purchasing it 8 years ago, as what he called a "junkyard special."
Suicide doors, a new hood, different windows and a lowered dashboard are just a few of the changes Laugesen made to the car.
While Laugesen and others traveled from all over, many Craig residents came to showcase their vehicles.
Leo Duran, who brought his 1969 Z28 Camero, said his entry stemmed from high school memories.
"I use to have a car just like this when I was in high school," he said. "I always wanted another one, and so I bought this one in good condition 10 years ago."
Les Hampton, also of Craig, said his car, a 1961 Austin Healey, has been in the family since 1964.
"Older cars take a lot of maintenance," he said. "I've put about $5,000 into the vehicle since I received it five years ago."
David Pressgrove, area director of Bear River Young Life, said the show grossed about $6,000, which will mostly be used toward the group's camps.
"I don't think anybody that was involved was disappointed," he said. "We had a great regional turnout, as well as people from both coasts."
About 60 more people than last year brought vehicles to the show, Pressgrove said.
The Colorado Cruisers teamed with Young Life to present the show.
Colorado Cruisers President George Vassek said everyone helped make the show a great success.
"I'd just like to thank all the sponsors and all the people who brought their vehicle," he said. "We wouldn't have a show without them."