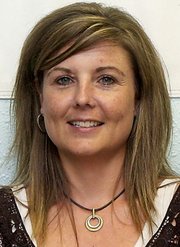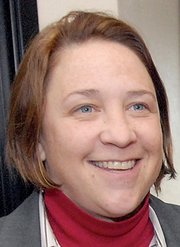 In other action
At its regular Tuesday meeting, the Moffat County Commission:
• Approved, 3-0, a County Technical Services, Inc. annual renewal of accident protection program totaling $397.75.
• Approved, 3-0, a treasurer's report.
• Approved, 3-0, a five-county core services mental health services contract with Mental Health Center of Denver from June 1 to May 31, 2011, not to exceed $1,600.
• Approved, 3-0, a facility use agreement with the Colorado State High School Rodeo Association for use of the Moffat County Fairgrounds.
• Approved, 3-0, to draft a memorandum of understanding with Yates Petroleum for a four-mile upgrade to Moffat County Road 92.
• Heard a regional economic update from Scott Ford, director of the Routt County Economic Development Cooperative.
The Moffat County Commission addressed two county board vacancies Tuesday morning.
During its regular meeting, the commission approved, 3-0, appointing Moffat County Budget Analyst Tinneal Gerber to serve on The Memorial Hospital board.
Gerber sent her letter of interest to the commissioners June 10. Tom Soos, Moffat County emergency services director, also applied for the position.
Gerber will be filling a vacancy created by the resignation of hospital board chairman Ron Danner, who stepped down at the board's May 26 meeting.
Gerber started working for Moffat County in 2001 and became the budget analyst in 2004.
She said her desire to serve on the board stems from wanting to give back to the community.
"I felt like that was a good opportunity to do that and that I could be of a benefit, hopefully, to the hospital board with the education and background that I have," she said.
Gerber said she has not been involved with TMH or health care before, but is looking forward to learning.
"I don't have any plan or any agenda or plan going in there, it is just to serve my community and to be a benefit in some way to them," she said.
The commission stipulated that Gerber would serve until January 2011, when Danner's term expires.
Gerber said she would be interested in a full appointment after her six-month appointment ends.
During the meeting, commissioner Tom Gray said several residents came to him with concerns regarding county employees serving on commission-appointed boards.
"There is no connection between Tinneal's employment and decisions that are made at the hospital," Gray said after the meeting.
Gray also addressed that Gerber oversees the county's finances and budget.
"There is no connection whatsoever since the mill levy passed," he said. "There is no money (that) goes from the general fund to the hospital. It's all, as far as taxpayer support … from the mill levy, which is dedicated to the hospital."
Gray said Gerber would serve the commission well with her background in finance because "that is a large part of what the hospital board has to deal with."
"She acts professionally at all times and she is good listener, but she is also someone who thinks for herself," he said.
The commission also approved, 3-0, the appointment of Tammie Thompson-Booker to the Moffat County Tourism Association board.
Thompson-Booker, regional director of sales for Candlewood Suites, will fill the vacancy created by Gina Robison's resignation. Robison resigned from her position May 14.
Thompson-Booker served on the MCTA board for two years before resigning in the summer of 2009 due to work and time constraints, she said.
"I am very passionate about what I do for a living," Thompson-Booker said.
"I'm not only passionate because it is what I do, but I care about the places I live. I just want to be a part of making sure I am doing everything I can to not only make myself successful, but also the community successful as well."
During the meeting, Annie MacGregor, MCTA board chair, requested the commission postpone naming a new board member because the board is in the process of finishing its operational and marketing plans.
MacGregor said she wanted a board member to come into the process "fresh."
Former Craig Mayor Dave DeRose also applied for the MCTA position, but Gray said DeRose was not eligible to serve on the board.
Gray said MCTA board members must be involved in the local tourism industry as required by state statute.
"We need to be consistent because in the past, we have went by the statute," Gray said after the meeting. "We have had people apply who weren't directly working in the tourism industry and we have said, 'No, sorry but that is not going to work' because of the statute.
"I think it would have been a very poor message to go outside of that."