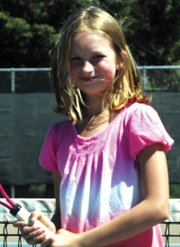 Age: 9
Sport: Tennis
How did you get your start in your sport?
"I did it last year and it was one of my favorite sports."
What is your favorite thing to do in your sport?
"Serving the ball is really fun."
What other sports do you play?
"Besides tennis, I play four-square at home."
What is the hardest part about your sport?
"Hitting the ball backhand is really hard for me."
What would you like to do when you grow up?
"I want to be a professional tennis player."
Who is your role model, and why?
"My best friend, Briana."
What's one thing you have never done before that you would like to?
"I want to try surfing. I love water and think it would be fun."
If you could meet anyone, who would it be?
"Taylor Swift."
Favorites
Dessert: Brownies
Color: Green
Movie: "Tinkerbell"
Cartoon: "Spongebob Squarepants"
Place to go: Idaho
Thing to do with your friends: "I like to go play at friends' houses and stay the night."