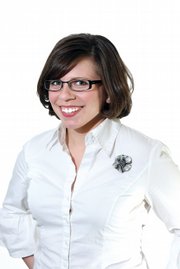 Weekend movie show times
29 E. Victory Way
824-2000
• "The A-Team" — Rated PG-13; 7 and 9:05 p.m. Friday and Saturday and 4 and 7 p.m. Sunday.
• "Robin Hood" — Rated PG; 7 and 9:15 p.m. Friday and Saturday and 4 and 7 p.m. Sunday.
Tickets: $7 for ages 10 and older, $5 for ages 9 and younger.
Sunday matinee: $5 for ages 10 and older, $4 for ages 9 and younger.
Submit your event
Submit your event's details for consideration by emailing me at mballeck@craigdai... or calling 875-1790.
Take your pick. Fun in Craig, or a few minutes either way on the highway this weekend.
I don't think there's any way to go wrong.
Me? I'll be headed to garage sales with my little guy — yay for garage sale season! — and then to two weddings — yay for wedding season! Big fat fun weekend!
• Check out the carnival-themed Craig Chamber of Commerce Ambassadors' business after-hours mixer from 5 to 7 p.m. tonight.
Bank of America Home Loans hosts the mixer at 509 Yampa Ave., in the parking lot between Victory Way and Yampa Avenue. There will be snow cones, hot dogs and balloons. I'm so there.
RSVP by calling the Chamber at 824-5689.
• In Maybell this week, dogs and trainers from across the nation — and from other countries — compete in the second of three rounds of the Maybell Dog Agility Trials.
The trails are sanctioned North American Dog Agility Council events, and run from Friday through Sunday. Be there between 9 a.m. and 3 p.m. to catch the canine competition.
It all goes down in Maybell Park.
• Vroom vroom. Don't miss the first of the summer's three Moffat County Mud Runs on Saturday at Wyman Museum, 94350 E. U.S. Hwy. 40.
Registration for the event's classes — four- and six-cylinder, stock, super stock, pro stock, modified, open and even snow machine — runs from 7 to 9 a.m.
Races begin at 10 a.m.
Admission is $8 for those 13 and older, $4 for youths 6 to 12 and free for those 5 and younger. Concessions will be for sale, and there's a fun bouncy thing for the kids.
Call Tim at 629-0933 for more details.
•Head over to Hayden for a full day of fun Saturday.
The 32nd annual Hayden Cog Run starts at 10 a.m. Saturday.
Races include the 8.4-mile Cog Run, a 10K and a 5K fun run/walk. The cost is $25, and runners can register between 9 and 9:30 a.m. on Saturday.
Beginning at 10 a.m., Hayden hosts its Huck Finn Day at Hayden Town Park.
Area youths are encouraged to dress up like Huck Finn or Becky Thatcherand enter to win a look-a-like contest. Prizes are also awarded for the biggest, smallest and first trout caught.
A free barbecue follows the fishing.
Call 734-4168 to learn more about Huck Finn Day or the Cog Run.
And, after a day of fun, scoot over to the Haven Assisted Living Center for the annual barbecue and barn dance fundraiser from 6 to 10 p.m. Saturday.
The band Loose Change will offer up music.
The cost is $15 per person, $25 for couples and $8 for students 6 to 18. Admission is free for youths 5 and younger.
Call Karen at 875-1888 to get more info.
• West Theatre is getting in "The A-Team" and "Robin Hood" this week, and meanwhile, Redbox features "Shutter Island," and a few movies I haven't heard of, out new this week.