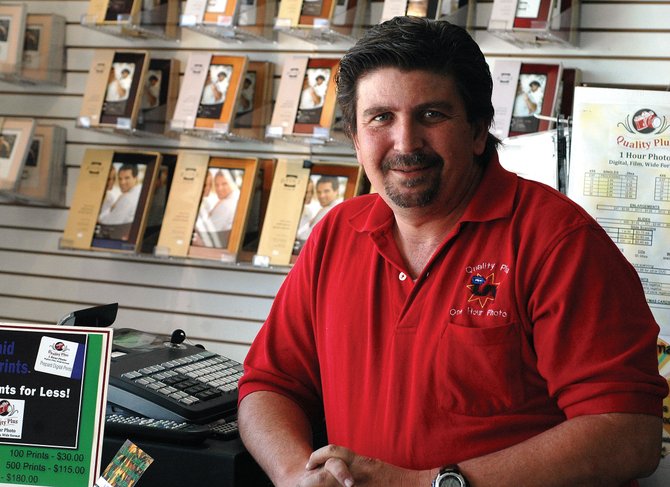 My Life My Words: Robert Libbee — Life through a lens
"I came to Craig in 1976 when I was 5. Before Craig, my family and I lived in Henderson, Nev. My parents moved here because of job opportunities. I went to school here at Moffat County High School. High school was interesting for me, and I was ready to get out. After I graduated, I went to college and got my associate's (degree) in electronics at Denver Institute of Technology. I used the degree for about 15 years. I was a repair technician at a place in Denver for awhile, and then here I worked for an office supply company.
"Four years ago, I took over the photo store. It has been a family business. My father owned this business before me and he was ready to retire, so I bought the store. I always wanted to have my own business, and this was a good opportunity. I wasn't sure how it would be, but it has turned out pretty much like I expected. A lot of ups and downs.
"Most of my clients are the Craig public. We get pretty good business here. We are known for our quality. I work my butt off to make sure I get the customers what they want. I usually work anywhere from 60 to 80 hours a week, spanning all seven days. There are certain things that take a long time and I can't do some things when clients are coming in during the day, so I have to do it after hours. Like making a DVD for a customer. It takes me about four hours and then I have to wait for it to burn. It is just a lengthy process.
"I would love to expand, but the economy is really what is holding me back right now. I wouldn't necessarily want to expand to different cities or towns, but I would like to just be bigger here in Craig. I really like it here in Craig, so I want to stay here. But the economy right now just isn't ready for us to expand yet.
"We don't have any help here at the store. My family and I run it by ourselves. I met my wife in college. We both went to the same school. We got married in 1996. We have two kids. One is 19 years old and the other is 10 years old. My 19-year-old boy graduated high school and goes to Mesa State College. He is working toward a degree in political science.
"I really like to ride motorcycles in my free time. I own a Honda VTX 1300. I started again about nine years ago. I had a motorcycle in high school and a guy hit me and cracked me up. So when I moved to Denver after I graduated, I really didn't want to ride a motorcycle again. When I moved back here, I got the itch again, and so I went out a bought one and started up again. Ever since then, I have just upgraded from there.
"I do photography on my own as well. I mostly shoot wildlife. I really like animals and it just came natural. I figured I would combine the two things. For shooting animals, I try to hit as many of the county roads I can get on. I don't hunt the animal, so I like to shoot them in another way. I don't have the greatest camera, so I have to get pretty close and it is a lot of fun. I usually have to get within 35 yards of the animals. I also do some senior portraits and family portraits and a few other different things, but wildlife is definitely my favorite."
— Interview by Joshua Gordon, Craig Daily Press