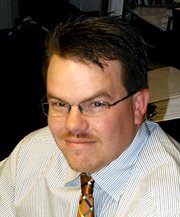 Business News Tips
The Daily Press wants to know what's happening at your business or place of
work, including promotions, new employees, transfers, awards, special deals, new products and more.
Send all your business news tips to Bryce Jacobson by e-mail at:
<
p>bjacobson@craig...
>
Mom & Pop's Smoked Bar-B-Q is now open at 1740 E. U.S. Highway 40 in Craig.
Joy and Gabriel Daigle own the restaurant.
The eatery now offers an extended menu, including brisket, pork roast and pulled pork, among others, while still serving ice cream cones, milk shakes and frozen Mocha coffee.

The Daigles said they enjoy cooking smoked meals and serving members of their local community.
Visit the restaurant at its location, or call 826-9793.
Explorecraig.com Business Spotlight
Spirit Pass is located inside Centennial Mall in Craig.

According to the store's www.explorecraig.com enhanced listing, "We are honored to carry a large selection of Native American music CDs, DVDs and books.
"We are blessed to carry Storybook Jewelry as well as Calvin Begay. We carry the wonderful pottery of Doreen Lansing and Roger Nelson. A beautiful selection of Zuni fetishes."
Owned and operated by Christine Muzik, this retail store in Craig offers a variety of items that are sure to work great as a gift for that special someone, or for you.

You can visit the store at the west end of the mall, or call 824-2844 for more information.
You can also learn more about Spirit Pass by typing in keyword "spirit" online at www.explorecraig.com.