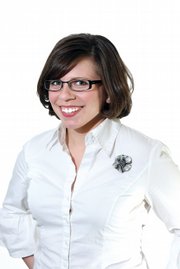 Weekend movie show times
29 E. Victory Way
824-2000
• "Prince of Persia: The Sands of Time" — Rated PG-13; 7 and 9:05 p.m. Friday and Saturday and 4 and 7 p.m. Sunday.
• "Shrek Forever After" — Rated PG; 7 and 9:05 p.m. Friday and Saturday and 4 and 7 p.m. Sunday.
Tickets: $7 for ages 10 and older, $5 for ages 9 and younger.
Sunday matinee: $5 for ages 10 and older, $4 for ages 9 and younger.
Submit your event
Submit your event's details for consideration by emailing me at mballeck@craigdai... or calling 875-1790.
It's officially summer in my book, so take note, Mother Nature.
This would be a good weekend to get your flowers in pots or the ground, if you're like me and haven't yet.
Now that kiddos are out of school, programs for them are kicking off, and we'll be sure to take part.
The Craig Swimming Complex opened Tuesday — cannonball! — and the Moffat County Libraries' Summer Reading Program is now underway as well.
So get yourself and your kids out and active this summer.
• Little ones will also love Huck Finn Cops and Kids Fishing Day on Saturday at Loudy-Simpson Park.
It's a fun excuse to dress up (as Huck Finn, Becky Thatcher or a law enforcement officer), get out in the sun and try to reel something in.
The event, for youths 12 and younger, starts with registration at 8 a.m. Then there's a fishing pole and costume judging contest and presentation on fishing safety.
Prize fishing runs from 9 to 10:30 a.m. Gift certificates will be awarded to the winners.
Need more information? Call Don Offutt at 824-8927 or Mark Wick at 326-6998.
• Too old to reel 'em in at Huck Finn? Then tee off at the Moffat County Sheriff's Office Scholarship Fund Golf Tournament.
The four-person scramble is Saturday at Yampa Valley Golf Course.
The cost to enter the tournament is $40 per player, plus non-members must pay a green's fee.
Prizes, in the form of credits at the pro shop, will be awarded.
Entry forms are available at the golf course or by calling Rick Holford at 826-2308.
• Check out some free music as students of Desert Rose Music Studio present their guitar recital at 4 p.m. Saturday at Wyman Museum.
It's free, and a barbecue will follow the recital.
Call Tracey Lynne Hart at 734-7166 for more information.
• The second annual Northwestern Deaf Social is scheduled for 11 a.m. to 2 p.m. Saturday at Calvary Baptist Church, 1050 Yampa Ave.
Anyone who is deaf, hard of hearing or interested in sign language is invited.
To get the details, call Deena Armstrong or Staci Nichols at 824-2547.
• The Sports Page Bar at the Holiday Inn of Craig, 300 S. Colorado Hwy. 13, features the Walker Williams Band starting at 9 p.m. Friday and Saturday.
• West Theatre is showing "Shrek Forever After" and "Prince of Persia: The Sands of Time" for another week.
Redbox has a few new(ish) releases. Some recent ones include "Alice in Wonderland," "Leap Year," "Dear John" and "It's Complicated."