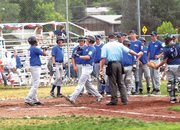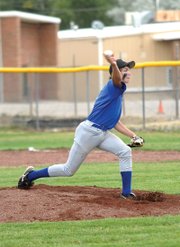 American Legion Post 62 first baseman Ivan Nielsen knows that if the Bulldogs field their positions, swing the bats and stay positive, the wins will come.
Unfortunately, the team wasn't able to put it all together, Nielsen said, and lost, 13-3, Thursday in the opening round of the American Legion state tournament against the Fleming Rattlers.
"We couldn't hit," Nielsen said. "The (Fleming) pitcher wasn't throwing hard, but we still couldn't hit."
The Bulldogs are hosting the four-day tournament, which ends Sunday.
All games are free, open to the public and played at Craig Middle School, 915 Yampa Ave.
The No. 7 seeded Bulldogs struck first, when starting pitcher Bubba Ivers launched a 3-run home run in the bottom of the first inning.
Ivers' blast, which was pulled down the left field line, ricocheted off Highway 13, sending Zach Booco and Carlos Maldonado, who had both walked, home.
But, soon after, the bats went quiet and No. 2 seeded Fleming was able to take the game over.
"We made some mistakes on routine plays," Nielsen said. "The errors have been killing us."
Fleming scored three runs in the top of the second inning to tie the game, then added six more in the third inning to take a 9-3 lead.
"The whole season, we will either hit the ball or make the plays," Nielsen said. "But, it never seems to be in the same game."
The Bulldogs will play at 8 p.m. tonight, against either Battle Mountain, Strasburg or Fort Morgan.
If the team wants to survive the double elimination tournament, it will need to pick itself up, Nielsen said.
"We have to stay up, we have to start having fun," he said. "In the first inning (Thursday) we were up, but then it fell apart."
Nielsen will be tonight's starting pitcher.
"I need to just put it in there for strikes," he said "I have to keep the ball down."
Strasburg 5, Steamboat Springs Sailors 2
The No. 5 Sailors were unable to overcome early home runs and fell, 5-2, to No. 4 Strasburg.
Ace Alan Capistron was able to stifle Strasburg until Jason McCain launched a solo home run in the third inning.
Bryson Engholm also added a blast for Strasburg, who will play the winner of Thursday's Battle Mountain/Eagle Valley vs. Fort Morgan game at 5 p.m. today.
Justin Ditter and Cutter Pasternak added run-scoring hits for Steamboat Springs, who will play the loser of Thursday's Battle Mountain/Eagle Valley vs. Fort Morgan game at 8 a.m. today.
Rangely, the No. 1 seed, will play Fleming at 11 a.m. today.