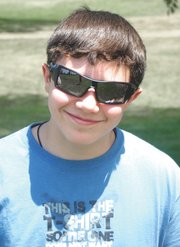 Age: 15
Sport: Football
How did you get started in your sport?
"My dad always watched football when I was younger and I just wanted to play since then."
What has been your defining moment in your sport?
"Winning the championship at the Wyoming football camp."
What is one goal you would like to accomplish in your sport?
"I'd like to win state my senior year of high school."
What is one aspect you would stress to a newcomer in your sport?
"You need to control your emotions. If you get too into the game, you will make mistakes that will hurt your team."
If you could go to any major sporting event, what would it be?
"The Super Bowl."
Who is your role model?
"My older brother, because he is a good guy and I have always looked up to him."
What's one thing you have never done before that you would like to?
"Probably paragliding."
If you could meet anyone, who would it be and why?
"Tom Brady. He is my favorite football player."
Favorites
Dessert: Ice cream
Color: Blue
Movie: "Shooter"
Cartoon (as a kid): Rugrats
Place you've been: Oregon
Thing to do with friends: "Just hang out and play some pool."