Top finishers
Full results here and in Sunday's Steamboat Pilot & Today.
Men's 9-mile
Todd Trapp, 1:06:48
Harry Niedl, 1:11:10
Derek Leidigh, 1:11:28
Women's 9-mile
Jenny Fox, 1:23:26
Kelly Bedell, 1:25:08
Mary Schuette, 1:25:39
Men's 5K
Tyler Scholl, 20:13
Shawn Scholl, 22:14
Braden Distal, 24:05
Women's 5K
Tabor Scholl, 21:44
Stephanie Scholl, 26:00
Megan Hays, 27:58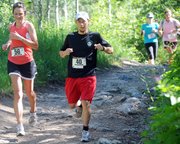 Steamboat Springs — Graziano Ghinassi got everything he expected and then some from the Spring Creek Memorial race — 9-mile and 5-kilometer races that challenged a massive crowd early Saturday morning.
He had the war wounds to prove it.
Ghinassi, an Italian spending a few days in Denver for work, said he searched for running races in the area and decided to check out Steamboat Springs. The 9-mile trail run left him with scrapes on both his legs, souvenirs from a dirty, gritty off-road course that forced competitors to hop over downed trees and hike up steep pitches. It reduced even the day's best athletes to walking.
"It was very hard but very nice," Ghinassi said. "The landscape is fantastic. It's really fabulous, and I liked the run. I love Colorado."
Ghinassi wasn't the only one who struggled through the brush only to come out the other side beaming. Saturday's attendance set a new record for the race, long one of the favorites in the Steamboat Springs Running Series. More than 170 registered for the day's two runs, including someone farther from home than Ghinassi — a Nepalese runner. Others climbed nearly 6,500 feet in elevation from their homes in Florida or Alabama.
For all the out-of-towners who enjoyed Saturday's race, the podium spots belonged mostly to locals.
Todd Trapp, the 2008 season-long series champion who's competed intermittently since, easily took the men's 9-mile race. He finished in 1 hour, 6 minutes and 48 seconds, ahead of 2009 series champ Harry Niedl and likely 2010 champ Derek Leidigh.
Niedl was in at 1:11:10 and Leidigh at 1:11:28.
"It was primitive," Trapp said of the course. "It was tough, really different than most trail races. Usually, you're watching out for rocks and things like that, but this one you don't know what you're stepping on, but it was good and it was fun."
Steamboat Springs runner Jenny Fox won the women's 9-mile race in 1:23:26.
She said her familiarity with the course helped make the difference as several competitors lost time after making a wrong turn.
Kelly Bedell was second at 1:25:08 and Mary Schuette third in 1:25:49.
"There was one girl in front of me and she got a little off course, so that helped," Fox said.
The 5K race also was dominated by familiar names. The Scholl family, Running Series regulars who make the trip from Kremmling, took four of the six male and female podium spots. Tyler Scholl won the men's race in 20:13, ahead of his dad, Shawn Scholl, who was second at 22:14. Braden Distal was third in 24:05.
Tabor Scholl beat her mom, Stephanie Scholl, to take first in the women's 5K, finishing in 21:44, ahead of 26:00. Megan Hays was third in 27:58. Full results from the race are available here.