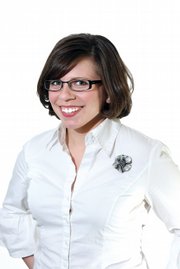 Weekend movie show times
29 E. Victory Way
824-2000
"Inception"— Rated PG-13; 7 and 9:30 p.m. Friday and Saturday, 4 and 7 p.m. Sunday
"Despicable Me" — Rated PG; 7 and 9:05 p.m. Friday and Saturday, 4 and 7 p.m. Sunday
Tickets: $7 for ages 10 and older, $5 for ages 9 and younger
Sunday matinee: $5 for ages 10 and older, $4 for ages 9 and younger
Submit your event
Submit your event's details for consideration by e-mailing me at mballeck@craigdai... or calling 875-1790.
There'll be some downright fun for some downright good causes this weekend. And you can't beat that.
For those of you wondering what in the world Keith, my loving hubby, will be up to this weekend, well, we're headed to Denver for a much-anticipated trip to the aquarium, The Wildlife Experience and more.
Keith can barely stand his excitement, and our little guy is looking forward to it a little bit, too.
• Ready to rope and ride?
Well check out the roping and barrel racing benefit for 7-year-old Hannah Sixkiller on Sunday.
Sixkiller, a Dixon, Wyo., resident, was recently diagnosed with brain cancer and is undergoing chemotherapy and radiation treatments.
Proceeds from the competition, as well as a concession stand and silent auction, will go to the Sixkiller family.
Registration for the event begins at 9 a.m. Sunday at the Russell Community Park rodeo grounds in Dixon, Wyo.
Call Brianna Braun at (307) 380-6203 to donate to the event or for all the event's details, and be sure to head up there to help out this little girl and her family.
• Family fun is always in style, and the Disability Days Concert & Carnival is a perfect fit.
The carnival runs from 5 to 9 p.m. Saturday at Alice Pleasant Park, in the 500 block of Yampa Avenue, and includes games, prizes and music.
This promises to be a fun time for a worthy cause.
Disability Days T-shirts are available at the event or prior to it at the Independent Life Center.
• The local American Poolplayers Association has a new home at a familiar place.
Mathers' Club has finished the renovation of its dance floor and pool room, which is complete with three new pool tables and new carpet and paneling, and will now host league play Tuesday nights.
The bar invites the community to a grand opening celebration from noon to 8 p.m. Saturday that will feature pool contests and free food to everyone who attends.
Sounds like a good time.
• Geocachers unite.
Join in the treasure-hunting fun from 10 a.m. to 3 p.m. Saturday during the second annual Geocaching Brown Bag Lunch Meet & Greet at Loudy-Simpson Park.
Everyone's welcome, so check out the GPS fun you've been missing.
• Hayden Speedway has a super street show starting at 6:30 p.m. Saturday.
Catch all the engine-revving action for $8 for adults and $4 for youths 7 to 12. Kids ages 6 and younger get in free.
The track's at 37900 County Road 53 in Hayden.
Need to know more? Call 824-3070 or (970) 208-7772.
• West Theatre is holding over "Inception" and "Despicable Me" so head on over if you haven't caught them yet.
Redbox has "Green Zone" out new, as well as "Animal Atlas: Animals and Us," which is right up my little guy's alley. We'll be renting that, I just know it.